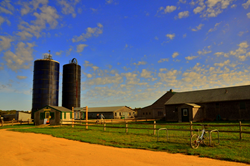 Boston, MA (PRWEB) April 05, 2016
The Trustees today announced that The FARM Institute, a beloved and established Martha's Vineyard based nonprofit providing year-round, farm-based educational programs for families, has become its newest reservation. The Trustees is Massachusetts' largest conservation and preservation nonprofit and the world's first land preservation nonprofit celebrating its 125th Milestone Anniversary this May. The Trustees currently owns and operates six other properties located on the island, including Cape Poge Wildlife Refuge, Wasque, Long Point Wildlife Refuge, Menemsha Hills, Mytoi Gardens and The Brickyard. It also manages and operates Norton Point Beach for Dukes County.
As an official new reservation of The Trustees, The FARM Institute will continue offering the same, dynamic year-round and summer camp and school-based programs, as well as the robust livestock operation island residents and visitors have grown to love and support over its last 11 years of operation. As part of The Trustees it will receive the added benefits of a new endowment created by both organizations, as well as access to additional stewardship and program engagement resources to ensure the organization's continued success, growth, and longevity for years to come. Both organizations have been working toward the steps needed to complete the integration since March of 2015.
"We are so grateful to all our generous Trustees and FARM Institute donors and supporters, both on and off-island, who have helped us make this integration a reality," says Barbara Erickson, Trustees' President and CEO. "We are excited to welcome The FARM Institute into our network of statewide reservations as our first working farm on Martha's Vineyard where we have been hoping to expand our agricultural preservation, farming, and educational programming expertise and impact for quite some time."
The organizations share a common mission and believe that connecting more people of all ages to natural spaces and their local farms and food sources is integral to creating a more sustainable food system and inspiring healthy, active living.
FARM Institute staff are now Trustees employees, with FARM Institute Executive Director Jon Previant stepping into the role of Trustees General Manager. Previant adds: "New beginnings are always exciting, and we're looking forward to being part of the Trustees' family . We wouldn't have come this far without the support of our island community, the dedication of our founders and Board, the hard work of all the current and former employees, the hundreds of volunteers and the enthusiastic response of all the kids and adults whose lives have touched us as much as we've touched theirs."
"We look forward to introducing more Trustees members and island visitors to The FARM Institute and vice versa as both organizations work together become even stronger providers of local food production and exemplary farm-based education programs here on Martha's Vineyard," adds John Vasconcellos, Senior Regional Director for The Trustees' Southeast and Boston Regions. "We are grateful to the Town of Edgartown, the Conservation Commission and our many supporters, both on and off-island, who have helped make this all possible."
The Trustees, established in 1891 to preserve, for public use and enjoyment, properties of exceptional scenic, historic, agricultural and ecological value in Massachusetts, have had a longstanding commitment to the conservation and preservation of open space on Martha's Vineyard since the late 1950s. As one of the largest private owners of farmland in Massachusetts and an established leader in conservation and farmland protection with four working community farms serving over 1,300 CSA members, hundreds of robust farm-based programs, and over 2,000 acres of protected farmland across the state, the addition of The FARM Institute on Martha's Vineyard is an important addition to The Trustees' growing portfolio of agricultural properties.
Both organizations worked together on an important fundraising campaign to raise the necessary $2 million by the end of 2015 to help create an endowment to support property stewardship, operations, and program growth for many years to come, as well as help plan for a long sought-after teaching kitchen for farm-based cooking programs. For those who are passionate about both organizations' many contributions to the Martha's Vineyard community and beyond and are interested in learning more about how to support The FARM Institute and The Trustees, please contact John Vasconcellos at jvasconcellos(at)thetrustees(dot)org
###
The Trustees preserves and cares for some of Massachusetts' most treasured natural, scenic, and historic sites for public use and enjoyment. Founded in 1891 and celebrating our 125th Anniversary in May 2016, we are the world's first land preservation nonprofit and the Commonwealth's largest conservation and preservation organization. We believe in protecting the irreplaceable for everyone, forever. Our passion is to connect more people to outdoor recreation, culture, agriculture, and healthy, active living by using our 114 diverse properties, community spaces, and over 3,500 annual programs as a powerful and compelling platform. Located within minutes of every resident and visited by 1.6 million people in 2015, our properties span more than 26,000 acres across the state – from working farms, landscaped and urban gardens, and community parks, to barrier beaches, forests, campgrounds, inns and historic sites, many of which are National Historic Landmarks. In addition to our properties, we are also an active leader in land conservation. We hold conservation restrictions on more than 20,000 acres and have worked with community partners to help protect another 25,000 acres across the state. In 2014 we became a founding partner of the Boston Public Market, the first all locally-sourced indoor market of its kind in the nation where we operate our Appleton Farms vendor booth and serve as the educational programming partner for the Market's demonstration KITCHEN. Funded by our nearly 125,000 members and supporters, we invite you to get out, get inspired, and find magic in the moment at a Trustees property near you: http://www.thetrustees.org.
The FARM Institute was established in 2000, has a decade long success story of providing year-round, farm-based educational programming, including a dynamic camp that attracts nearly 1,000 children from all over the country each summer who are interested in learning about agriculture. Thanks to the foresight and contributions of so many island residents, concerned neighbors, community members and supporters, The FARM Institute has been integral in protecting the historic Katama plains property with its rich legacy of farming from development.