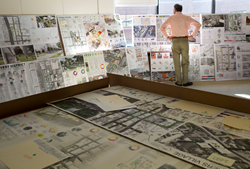 Washington, DC (PRWEB) April 04, 2016
WHAT:
Four graduate-level student teams, including two from Harvard University, one from the Georgia Institute of Technology, and one from the University of Miami, will present their final proposals for the 14th annual Urban Land Institute (ULI) Hines Student Competition next Thursday at a public forum at The Woodruff Arts Center's Rich Theatre. The 2016 competition challenged student teams to design and submit a master-plan proposal that included presentation boards with drawings, site plans, tables, and market-feasible financial data for an area in Atlanta's Midtown neighborhood.
A $50,000 prize will be presented to the winning team, and each of the remaining three finalist teams will receive $10,000.
The ideas competition, open to graduate students who are pursuing real estate-related studies at universities in North America, provides both full- and part-time students the opportunity to devise a comprehensive design and development scheme for an actual, large-scale site in an urban area. While based on a fictional scenario, the 2016 Hines Student Competition reflects many real-life concerns of Atlanta. In recent years, the city has supported increased market demand for urban real estate products with strategies to attract investment in its urban core and along key commercial corridors. In this competition scenario, teams are tasked with transforming this transitional area and completing the vision for Midtown Atlanta as a thriving, sustainable, mixed-use, walkable, and transit-accessible neighborhood; the exercise includes taking advantage of the site's proximity to downtown and Technology Square, its adjacency to Peachtree Street and public transportation, and its strong regional access.
To request a press pass to the finale presentation, contact rkrueger(at)uli(dot)org. For more information on the ULI Hines Competition, visit http://uli.org/hines
WHEN:
Thursday, April 7, 2016

8:30 a.m. – Introduction by Lela Agnew, executive vice president of Strategic Communications at ULI; Gerald Hines, founder of the Hines real estate investment firm; and jury chair Tara Carter Hernandez, president of JCH Development in New Orleans.
9:00 a.m. – Team #1 Presents and Answers Questions from Jury
10:00 a.m. – Team #2 Presents and Answers Questions from Jury
11:00 a.m. – Team #3 Presents and Answers Questions from Jury
12:00 noon – Team #4 Presents and Answers Questions from Jury
1:00 p.m. – Jury Deliberation and Lunch Break
2:30 p.m. - Announcement of Winner and Presentation of Certificates
WHERE:
The Woodruff Arts Center
Memorial Arts Building
Rich Theatre
1280 Peachtree Street NE
Atlanta, GA 30309
CONTACTS:
Robert Krueger
202-624-7051
rkrueger(at)uli(dot)org
BACKGROUND:
The Urban Land Institute (uli.org) is a nonprofit education and research institute supported by its members. Its mission is to provide leadership in the responsible use of land and in creating and sustaining thriving communities worldwide. Established in 1936, the Institute has over 37,000 members representing all aspects of land use and development disciplines.
ABOUT THE WOODRUFF ARTS CENTER:
The Woodruff Arts Center is one of the largest arts centers in the world, home to the Tony-Award winning Alliance Theatre, the Grammy-Award winning Atlanta Symphony Orchestra and the High Museum of Art. Each year, these centers of artistic excellence play host to more than 1.2 million patrons at The Woodruff Arts Center's Midtown Atlanta location, one of the only arts centers in the U.S. to host both visual and performing arts on a single campus. http://www.woodruffcenter.org