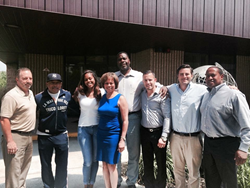 Swedesboro, NJ (PRWEB) April 05, 2016
Rastelli Foods Group, a food service company specializing in the processing of gourmet meats and international distribution, is proud to announce the company's partnership with two Shark Tank businesses, Bubba's-Q and Three Jerks Jerky. As a leader within the food industry, Rastelli Foods Group will be assisting its new partners with its products, as well as other important areas of their businesses.
Headed by former NFL player Al 'Bubba' Baker, Bubba's-Q provides the only patented de-boned baby back rib steak in the world, and Rastelli Foods Groups partnered with the company to help co-pack this patented product. Rastelli will also handle the production of all Bubba's-Q's products, manage the company's website, and manage product fulfillment shipping products purchased on the website to the customer's home.
Rastelli Foods Group has also partnered with Three Jerks Jerky, a company providing high quality beef jerky made from the finest filet mignon. Through this partnership, Rastelli will provide Three Jerks Jerky with the top-quality filet mignon needed to make their signature filet mignon jerky.
Both of these companies appeared on the hit ABC reality TV show Shark Tank, which features a panel of business executives and investors, called Sharks, who consider pitches from entrepreneurs and small business owners seeking funding for their business, products or services. Bubba's-Q appeared on Shark Tank in 2013 and the show's companion series, Beyond the Tank in 2015, while Three Jerks Jerky appeared on Shark Tank in 2015.
About Rastelli Foods Group
Rastelli Foods Group has built a quality name in the food industry since 1975 with the opening of their first store – The Meat Stop. Privately owned and operated by brothers, Ray and Tony Rastelli, Rastelli Foods Group has grown into a full-scale food service provider and meat processor with distribution to over 80 countries and a national gourmet foods home delivery program.
About Bubba's-Q
After retiring from professional football, Bubba and his wife Sabrina opened a catering business that featured traditional southern-style BBQ cuisine. Bubba also launched a series of signature sauces and dry-rubs and his famous fall-off-the-bone-tender De-Boned Baby Back Rib Steak, which have won over even the toughest BBQ connoisseurs across the country. For more information about Bubba's-Q, visit http://www.bubbasbonelessribs.com.
About Three Jerks Jerky
Three Jerks Jerky was founded by friends and foodies Daniel Fogelson and Jordan Barrocas, who yearned for the highest quality, purest and most delicious jerky. After spending countless hours experimenting with various cuts of meat and different flavors, the two choose filet mignon, with its dazzling flavors and only real ingredients, to create their incomparable beef jerky. For more information, visit http://www.threejerksjerky.com.