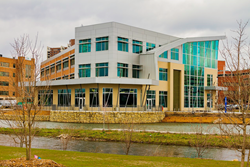 Kalamazoo, MI (PRWEB) April 04, 2016
The public is invited to a community open house at the Bronson Healthy Living Campus on Sunday, April 24. Tours, demonstrations and an opportunity to meet with faculty and students will be available from 2 to 5 p.m.
Responding to increasing consumer demand for holistic approaches to sustainable food production and safety along with the need to impact the health and well-being of residents through improved nutrition and diet, the $46.1M campus on 14 acres donated by Bronson Healthcare, includes three new structures. Two of the buildings are operated by Kalamazoo Valley Community College and one by Kalamazoo Community Health and Substance Abuse Services.
"Everyone is welcomed to tour the new buildings and learn more about programming," said Kalamazoo Valley Community College president Marilyn Schlack. "We are grateful for the collaboration of our partners Bronson Healthcare and Kalamazoo Community Mental Health and Substance Abuse Services and the collaboration with the City and others who have helped to make this vision a reality."
The Kalamazoo Valley Food Innovation Center opened at the beginning of the winter 2016 semester. The first students to use the facility are enrolled in Introduction to Sustainable Food Systems, Food Safety Essentials, Winter Crops Practicum, and Food Industry Career Planning. Tiny sprouts of microgreens, radishes, cabbage, kale, cilantro and basil offer just a glimpse of what's coming. Soon, the live wall in the visitors' center will be covered with plants. The grow room will house hydroponic and aquaponic growing systems, and a space-saving, vertically stacked growing rack system that's popular in dense urban areas. The building houses labs and a large classroom. There is also a 9,600-square-foot greenhouse on the grounds with shades that provide light and temperature controls and a self-venting roof. The building is located at 224 East Crosstown Parkway.
At 418 East Walnut Street, the Kalamazoo Valley Culinary/Allied Health Building is the home for students enrolled in the new Menus That Matter ™ Culinary and Sustainable Food Systems programs. The three-story structure houses a culinary theatre, community education kitchen and will include a full-service teaching restaurant and café. The Kalsec © Center for Sustainable Brewing Education is located on the second floor and includes a teaching brewery, classroom spaces, and labs.
The building will also be the new home for Kalamazoo Valley students enrolled in nursing, emergency medical technology and respiratory care programs. Students will train in state of the art simulation labs, spacious classrooms and an ambulance which was hoisted into position during the construction of the building. Students are expected to occupy the space beginning this summer.
Kalamazoo Community Mental Health and Substance Abuse Services, (KCMHSAS) a partner in the project, has constructed a 17,000 sq.ft. person-centered clinic and pharmacy at 615 East Crosstown Parkway. This integrated, health-services clinic opened in December. "It is hoped that its close proximity to Bronson Methodist Hospital will help prevent avoidable emergency room visits and facilitate timely post-discharge follow up," according to KCMHSAS Chief Executive Officer Jeff Patton. "Location on the healthy living campus will create opportunities to incorporate garden-based therapies in holistic patient care."
In addition, the entire campus has benefited from extensive property improvements. According to Mike Collins, Executive Vice President for Enrollment and Campus Operations, "The college received a $1M grant from the Michigan Department of Environmental Quality for site work. We worked with the Kalamazoo Brownfield Redevelopment Authority since the site was deemed a brownfield." Kalamazoo Valley continues to work with the City, Kalamazoo County and the Kalamazoo River Valley Trail on a trail that will connect the north and south campus along the creek.
Other activities scheduled to celebrate the campus opening include "Tasting Kalamazoo History: Favorite Dishes and Recipes from Our Rich Midwestern Heritage" at the Kalamazoo Valley Museum from 1:30-2:30 p.m.
All of the April 24 events are free and shuttles will be available between all three buildings on the Bronson Healthy Living Campus and the Kalamazoo Valley Museum. For more information visit http://www.kvcc.edu/healthyliving.