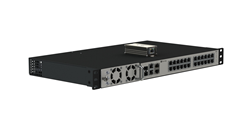 Oakville,Ontario (PRWEB) April 05, 2016
FLEX delivers fast Ethernet and UPoE (50 watts) over 2 or 4 pair UTP with 1,640 ft (500m) reach. FLEX can be used for all IP end points that require fast Ethernet connectivity and high power. Available today are FLEX 24 Port Managed Switch and FLEX Extenders.
The NVT Phybridge CHARIoT Series
The NVT Phybridge CHARIoT series, which includes PoLRE, CLEER and FLEX switches, help customers migrate from existing infrastructures to IP-based infrastructures quickly, cost effectively and without sacrificing security. The NVT Phybridge CHARIoT series eliminates infrastructure barriers by providing:
Extended Reach

Extends 4 – 6 times father than standard PoE switches over 1 pair UTP, Coax or 2 and 4 pair UTP.
Extends your LAN with IP connections with power.
Amplified Power

Provides flexibility to use AC or DC power with the same switch.
Provides low levels of power consumption (with power sharing, load balancing)
Robust Management

User friendly GUI
Easy configuration, management and troubleshooting of network.
Hundreds of schools, hospitals, hotels, retailers and governments at all levels have used the award winning CHARIoT switches to save money, and eliminate risk.
About NVT Phybridge
The newly formed NVT Phybridge is the leader in long reach PoE (Power over Ethernet) for the communication, physical security and building control needs of business. In addition to industry leading analog transmission products, our long reach PoE switches make PoE connections in far places simple. NVT Phybridge CHARIoT Series switches help our customers migrate to an IP-based network, transforming the existing or new infrastructure into an IP path with power. NVT Phybridge is a North-American based company, dedicated to bringing technologically advanced and practical solutions to a global market. Additional resources are available on-line.