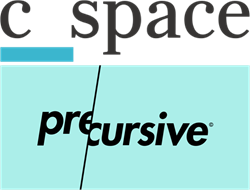 We selected Precursive as a strategic partner... due to the functionality and simplicity of their solution but also because of the quality of advice they provide throughout.
London, UK (PRWEB) April 06, 2016
C Space - the leading customer collaboration consultancy - has selected Precursive to provide a resource management application to support the growth of its business and continue its investment in technology applications for its staff.
The three-year partnership will allow C Space to streamline its approach to resource management, provide an accurate view of project financials, and ensure easy timekeeping through mobile devices.
Graham Cannon, Vice President at C Space, commented:
"We are looking to increase overall efficiency and improve our business processes in order to support the future growth of our business. We selected Precursive as a strategic partner to support these needs due to the functionality and simplicity of their solution - but also because of the quality of advice they provide throughout."
Christopher Howard, Financial Controller at C Space, added:
"We recognise that the quality of data and reporting across topics like utilisation, project budgets and revenue realisation is critical for making better business decisions. Precursive's solution provides real-time data across all these areas and allows us to make more informed decisions and take corrective action where necessary."
About C Space
C Space, formerly Communispace, is the leading customer collaboration agency that connects the world's best-known brands with the people they serve to create Customer Inspired Growth. In a time when consumers have more choice and power than ever before, building ongoing relationships with customers is the most important investment a company can make. Our range of services builds customer-centric cultures and enables our clients to act with confidence and agility because they have designed the customer into their entire organization. Through private online communities, immersive storytelling, activation events, and innovation projects, C Space fosters new connections between companies and their customers, allowing them to design better products and experiences, improve business performance, and achieve measurable growth.
Headquartered in Boston, London, and Shanghai, C Space has offices in Chicago, New York, San Francisco, Amsterdam, and Mexico City. To learn more, visit http://www.cspace.com or follow us on Twitter @CSpaceGlobal. C Space is a part of the DAS Group of Companies.
About Precursive
Precursive provides beautifully simple resource management software that is 100% native to the Salesforce platform. Operating globally but with headquarters in London, Precursive has customers in the UK, US, and Europe, served by an international workforce of consultants and development staff.
A gold Salesforce partner, Precursive helps to bridge the gap between sales and invoicing. It replaces multiple aspects of professional services automation/resource management - often maintained manually in separate systems and spreadsheets - with one cloud-based app. Built by a team with years of professional services experience at blue-chip consultancies, Precursive helps organisations grow by managing their resources better.
For more information about Precursive, visit http://www.precursive.co.uk or follow us on Twitter at @precursive.