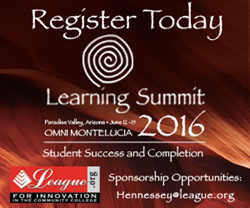 "The opportunity to work with our team was truly invaluable. This is always a productive experience."
Chandler, AZ (PRWEB) April 07, 2016
Join colleagues from across the continent at the 2016 Learning Summit in Paradise Valley, Arizona, June 12-15. The Learning Summit is a working retreat for community college teams to connect with colleagues, discuss issues, and explore strategies for focusing entire colleges on improving and expanding student learning.
The Learning Summit will kick off on Sunday evening with a special screening of the acclaimed documentary, No Greater Odds, which follows the inspirational stories of five community college students and underscores the unique and integral role of this sector of higher education. Immediately following the special screening of No Greater Odds, the students featured in the film and the film's producers will participate in panel discussion and question-and-answer session with Summit participants.
Monday through Wednesday, the program will devote a half-day to each of the five topic areas: student learning outcomes; student engagement; faculty and staff engagement; organizational culture; and quality, inquiry, and accountability.
Each half-day session offers an interactive symposium, concurrent forums, and conversations about learning. Participants are engaged as full partners in all Summit activities.
The Summit is a team-based event, with community colleges bringing groups representing all areas of the institution. One veteran participant explained that, "The opportunity to work with our team was truly invaluable. This is always a productive experience."
Don't miss this opportunity to share your experience and expertise and to learn from others at this year's Summit.
Visit the Learning Summit website,http://www.league.org/ls2016, for more information and to register.
About the League for Innovation in the Community College
The League for Innovation in the Community College is an international, nonprofit organization dedicated to catalyzing the community college movement. The League hosts conferences and institutes, develops print and digital resources, and leads projects and initiatives with more than 700 member colleges, 160 corporate partners, and a host of other government and nonprofit agencies in a continuing effort to make a positive difference for students and communities. Information about the League and its activities is available at http://www.league.org.