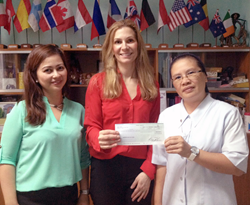 The money will be used for much-needed necessities including food, medicine, and clothing.
WOODBURY, NY (PRWEB) April 05, 2016
In March 2016, International AutoSource (IAS) representatives traveled to Manila, Philippines to deliver a check for $9,250 to Hospicio de San Jose, a local Roman Catholic welfare institution. The donation comes from a portion of the proceeds from International AutoSource's Healthcare Program, which helps many Filipino healthcare workers moving to the United States to obtain affordable vehicles.
As a company, International AutoSource is committed to improving the quality of life worldwide. 2016 marks the sixth year that members of the International AutoSource team traveled to the orphanage to present the donation, in what has become an annual tradition. One member of the IAS team who visited the orphanage, Vicki Ragavanis, Senior Manager, wrote about her experience visiting Hospicio de San Jose on the International AutoSource blog.
"There are more than 200 residents including orphans, special needs children and elderly who have either been abandoned or do not have the means to care for themselves," wrote Ragavanis, "The money will be used for much-needed necessities including food, medicine, and clothing. Our IAS team members personally contributed additional funds to buy crayons, coloring books and lunch for two of the groups, totaling 72 children."
International AutoSource is a full-service personal transportation solution offering Expat car leasing, financing, and purchasing without a local credit history. The Healthcare program is specifically designed to help medical professional moving to the United States to finance a car at affordable rates. The program services a large portion of Filipino healthcare workers relocating to the USA.
About International AutoSource
For over 50 years, International AutoSource has been providing value-added services and benefits specifically designed for expatriates and the global community for short and long-term assignments. Their programs offer full-service personal transportation solutions for financing, purchasing, leasing and rental without a local credit or driving history. Through outstanding service, value and support IAS strives to make assignments into a foreign country as seamless as possible while saving customers valuable time, money and resources. For more information, please contact International AutoSource at +1 516.496.1816, email at intlauto(at)intlauto(dot)com or visit their website http://www.intlauto.com.