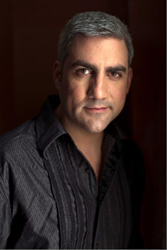 Indian Land, SC (PRWEB) April 04, 2016
INSP has commenced production on a new original weekly series, State Plate, with plans for the series to debut on the network in the fall of 2016. The announcement was made by Doug Butts, SVP of Programming at INSP.
Butts also announced that Grammy award and former American Idol® winner, Taylor Hicks, has been named as the host of the series.
State Plate will celebrate the unique food traditions of all 50 states. "In each episode we dig into the distinctive foods of a particular state," Butts said. "Unlike most food shows, we won't be touring restaurants; this is about the food itself, how it is grown and the people who bring it to our dinner tables. What emerges is the trivia and unknown stories behind our states' most emblematic foods."
"Taylor's wide popularity, experience as a restaurateur, and down-home charm make him an ideal host for a traveling food series." Butts said. "In each episode of State Plate, he travels to a particular state, where he will 'assemble' a plate filled with the food most associated with that state. He'll sample everything from crab cakes in Maryland and peaches in Georgia; to chili in Texas and potatoes in Idaho. As he makes his way from coast to coast, Taylor will visit farms, ranches, markets, festivals, and other diverse and unusual locales. In the process, viewers share in the journey as he uncovers the rich details behind each state's unique food traditions. It's a heaping helping of America's most beloved cuisine, rich in history, folklore, and flavor."
"State Plate has tested very well, and audiences agree that this series complements and enhances INSP's family-oriented schedule," Butts said. "We are thrilled that viewers will be taking this journey with such a beloved personality as Taylor Hicks.
State Plate is produced by RIVR Media. The series is scheduled to premiere on INSP this fall.
###
About INSP
INSP is available nationwide via DirecTV (channel 364), Verizon FiOS (channel 286), AT&T U-verse (channel 564) and more than 2,800 cable systems. Click here to find INSP in your area. For quality dramas, positive entertainment and inspiring stories, celebrating the American spirit and honoring timeless traditional values, it's INSP.
About RIVR Media
RIVR Media is an American-based TV production company, specializing in reality, documentary and digital programming. RIVR has produced over 2000 shows for 21 cable networks including such series as Renovation Realities, Escaping Polygamy, Trading Spaces, Whale Wars, and Fat Guys in the Woods, to name a few.
About Taylor Hicks
Taylor Hicks is one of the most beloved and popular American Idol winners of all time. From the start, Hicks' material on the mega-hit show set him apart, with a unique take on Country, Southern Soul, R&B and Blues. Sixty-four million votes were cast and nearly 37 million American viewers and more than 200 million viewers worldwide tuned in to crown Hicks the Season 5 winner of American Idol, making it one of the most-watched TV events of the last decade. Hicks' star continued to rise after he stepped off the Idol stage. Less than three weeks after his Idol victory, his debut single, "Do I Make You Proud," entered at No. 1 on Billboard's Hot 100, Pop 100, and Single Sales Charts. His self-titled album (Arista), debuted at No. 2 on the Billboard 200 and was quickly certified RIAA Platinum. Hicks is the first male Idol winner to be featured on a Grammy Award-winning album, Jimmy Fallon's "Blow Your Pants Off," which took home the 2013 Grammy for Best Comedy Album. Hicks' career has included stints on Broadway, a national tour with a hit musical, as well as headlining Paris, Las Vegas and other Caesars Entertainment properties all over the United States.