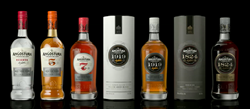 Our new, modern and sophisticated packaging captures the more than 190 years of heritage and history that inform the proud traditions of The House of Angostura
(PRWEB UK) 4 April 2016
"It's a big, brave move for us," says Executive Manager – International Sales & Marketing, Genevieve Jodhan, "and we are confident that our new, modern and sophisticated packaging captures the more than 190 years of heritage and history that inform the proud traditions of The House of Angostura®."
Angostura® has changed the packaging for all five of its highly acclaimed international rums: Angostura 1824®, Angostura 1919®, Angostura® 7 Year Old, Angostura® 5 Year Old, and Angostura® Reserva.
"Every change reflects the exquisite quality of our rums," says Jodhan, "the new packaging isn't just aesthetically pleasing, it also centres the brand geographically in its Caribbean birthplace, Trinidad and Tobago and reflects the unique nature of our journey."
Iconic Labels: Labels for the entire range have been completely recreated, including new typography which is streamlined, stylish and evocative of luxury. The iconic butterfly logo of The House of Angostura® has been centred at the top of the front label, and two new brand icons have been added — a map of Trinidad and Tobago on the left, and an illustration of a butterfly and molasses on the right. These images tell the distinctive story of the brand: Butterflies have been associated with Angostura®'s rums from time immemorial, and The House of Angostura® is home to the Barcant Collection of more than 5,000 butterflies. And, of course, all the rums are made at Angostura®'s distillery in Trinidad using the highest quality molasses.
Notably, back labels will also carry the Authentic Caribbean Rum Marqué issued by the West Indies Rum and Spirits Producers' Association Inc., which guarantees that the rum is a genuine Caribbean rum.
New Bottles: In addition to changes to the labels, Angostura®'s three premium rums — Angostura 1824®, Angostura 1919®, Angostura® 7 Year Old — are presented in a heavy, sensuous bottle with a thick glass base. Beautifully shaped with rounded curves, the bottles also use a new "orchid closure system" which is both easy to open, yet safely secured for the customer's protection. All five bottles are ergonomically balanced and shaped to facilitate storage and usage at the bar. The signature of Dr. J.G.B. Seigert, the founder of Angostura® and the crest of the House of Angostura® are also emblazoned on all the bottles. This premium packaging places Angostura®'s sipping rums where they belong — alongside the world's best whiskys and spirits.
The Spirit of Angostura® Illustration: All five rums bear a unique illustration on the bottle closure, called the Spirit of Trinidad and Tobago, which reiterates the brand story through portraits of a beautiful dancing woman, sugar cane and Trinidad's awe-inspiring Scarlet Ibis. The top of each bottle closure also bears a map of Trinidad and Tobago.
Special Packaging: Angostura®'s premium rums, Angostura 1824®, and Angostura 1919®, are both available in exquisite tubes and, in the case of Angostura 1919® in a beautifully matte grey box. Specially made for gifting, these packages bear the story of the Spirit of Trinidad and Tobago.
"The entire range of Angostura® rums celebrates the history and the true spirit of Trinidad and Tobago," says Jodhan, "over the last 192 years Angostura® has successfully perfected the art of rum making, creating elegant stylish rums that are now found across the five continents. We believe that our new, totally reimagined packaging reflects our sense of adventure and innovation."