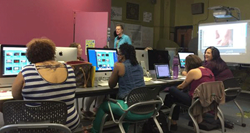 MediaBreaker is a powerful, easy to use online video editor that makes teaching media and digital literacy skills possible for educators across the country.
New York, NY (PRWEB) April 05, 2016
Media and digital literacy education nonprofit The LAMP (Learning About Multimedia Project) today announced beta availability of MediaBreaker 2.0, a free online video editor updated with a user-friendly interface, fair use tools, customizable media library, curriculum and lesson plans, and student feedback tools. Easily integrated into classroom instruction in a wide variety of academic subjects, MediaBreaker 2.0 enables educators to overcome systemic obstacles to media literacy education, a discipline proven to help students master skills aligned with the Common Core initiative and with '21st-century learning.'
"MediaBreaker 2.0 is an exciting new idea. The LAMP started with a popular tool and, with input from teachers, librarians, youth, and media literacy advocates, reinvented it from the inside out. The result is a powerful, easy to use online video editor that makes teaching media and digital literacy skills possible across the country," said The LAMP Executive Director D.C. Vito. "When The LAMP first brought our programs to public schools, we saw that teachers, particularly those in low-income communities, didn't have access to a video editor or, if they did, the editors were hard to use. With its new user-friendly interface and fair use features, and because it is free and lives in the cloud, MediaBreaker 2.0 overcomes these barriers."
From advertising to social media, the 24-hour news cycle, video games, and beyond, young people live in a media-heavy world and are constantly exposed to questionable content. With MediaBreaker 2.0, educators can engage students with media and teach them how to think more critically about it, and the major social, emotional, and political issues encountered there. Users import copyrighted videos like news clips, music videos and commercials and use a suite of audio and video editing tools to remix them and insert critical statements about those media, often calling out stereotypical representations or misleading messages. It is a critical component of The LAMP's in-school media literacy and teacher training programming, but it is also a stand-alone tool.
"We are in an interactive age, when knowing how to read our media is no longer enough. We must know how to talk back to it," said Douglas Rushkoff, media theorist and author of Throwing Rocks at the Google Bus: How Growth Became the Enemy of Prosperity. "Media Breaker is a platform that takes users beyond critical thinking to critical expression. This is the mandatory skill set for a digital media environment."
MediaBreaker 2.0 also features MediaBreaker/Studios, an online education resource and learning platform built around the tool. Educators can create virtual studios, or custom libraries, of video content for students to use for creating 'break' videos. They can also browse resources and lesson plans for inspiration in using the tool. Students can award Kudos to 'breaks' created by fellow classmates, and earn badges for milestones achieved in their own work.
The MediaBreaker 2.0 online video editor is found at mbstudios.thelamp.org.
MediaBreaker/Studios and supporting online educational resources can be accessed online at thelamp.org/mediabreaker-studios-online-learning. Examples of student 'break' videos created using MediaBreaker can be found at youtube.com/MediaBreaker.
About The LAMP
The LAMP provides hands-on learning opportunities to at-risk and underserved populations so they can comprehend, create and challenge all forms of media in the 21st century. Through partnerships with dozens of schools and nonprofit organizations, The LAMP has directly reached thousands of youth, parents and educators in New York City. With tools like the MediaBreaker online video editor and educational curriculum they reach thousands more across the country. For more information: thelampnyc.org.