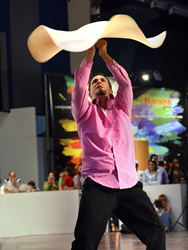 "We've always been serious about competing, but in the last few months we've implemented a structure that can help us achieve the same outstanding results in the culinary events that we've earned in acrobatics.
Oxford, Mississippi (PRWEB) April 06, 2016
The Groupon U.S. Pizza Team (USPT) is preparing to compete in the international pizza equivalent of the World Series, Super Bowl and Olympics all rolled--and stretched and spun--into one. Seventeen pizza chefs representing pizzerias from New York City to Tucson, Arizona, will journey next month to Parma, Italy, and the World Pizza Championships April 11-13. The Viale dele Esposizioni will be the arena bustling with the sounds, movements and many languages of 600 competitors from around the world. They'll test their cooking and dough-handling skills in three days of intense pizza combat.
In this 25th edition of the world's most prestigious gathering of pizza virtuosos, and the 16th year that PMQ Pizza Magazine has organized a competitive U.S. team, the Americans are bringing something fresh to Europe besides the dough and ingredients in their bags--a roadmap to success.
"We've always been serious about competing, but in the last few months we've implemented a leadership, coaching and advisory structure that can help us achieve the same outstanding results in the culinary events that we've earned in acrobatics," says Mike LaMarca, owner of Master Pizza, based in Cleveland, and a veteran USPT member. While acrobatics superstar Jamie Culliton of St. Petersburg, Florida, has earned second-place honors the last two years in Parma with his dough-juggling, tunes-pulsing dance routine, U.S. pizza makers haven't sniffed the top three award spots despite their kick-butt creations. That's the context for his peer pizzaioli picking LaMarca, the dynamic Ohio entrepreneur and innovator, as team captain The new skipper says his goal "isn't to stifle our guys' incredible creativity, but to align our overall approach more closely with what the judges expect." Newly named culinary captain Gino Rago of Panino's in Chicago--and a frequent returnee to his home country--will further fine-tune USPT's recipe and presentation tactics.
"Yes, our intention is to win, but the first metric of our upgraded USPT structure will be dramatically improved culinary scores," LaMarca says. "We're after an upward trend that leads to team growth and effective advocacy for this industry we all love."
A major LaMarca priority is recruiting talented new members to the team and this year's rookies, Drew French, founder of Your Pie, and pizza acrobat Scott Volpe, owner of Fiamme Pizzeria Napoletana, bring proven pizza passion and mad kitchen chops to the Italian showdown.
"I'm stoked to be the Georgia country boy competing against these Italian masters," quips French, who founded the 30-location Your Pie in 2008, kicking off the fast casual revolution. Your Pie, which opened in Athens, Georgia, with one pizzeria, is expanding so fast that French will miss two new-store openings during the short time he's in Italy. "I don't know exactly what to expect, but my plan is to have fun with it and win." As for the pies he'll compete with in the two cooking events he has entered, French's only clue is: "Think seasonal and local. I'll be learning on the fly," he adds. "I want to shake things up by doing something unique, but you can bet my ingredient list, when I shop in the local markets in Parma, will include prosciutto, balsamic vinegar and parmesan cheese."
French will be competing with his wife, Natalie, who should feel right at home in Parma since she hails from the island of Ischia off the coast of Naples. Their honeymoon trip was the inspiration for the birth of Your Pie and French's ardor for authentically crafted, memorable pizza.
This year's USPT competitors, in their assigned events, are: Pizza in a Pan, David Sommers, Mad Mushroom Pizza in West Lafayette, Indiana; Michael LaMarca; Leonardo Giordano, Mona Lisa Pizza in New York; Bruno Brunetti, Panino's Pizza in Chicago; Jason Samosy, Samosky's Homestyle Pizzeria in Parma, Ohio; and Gino Rago.
Classico: Sommers, LaMarca, Brunetti, Gino Rago, Lenny Rago of Panino's, Giordano, Samosky, French, Mike Russo of Romeo's in Westlake, Ohio; Brian Hernandez of PMQ Pizza Magazine in Oxford, Mississippi; and David Tieman, Five Points Pizza in Nashville.
Pizza on the Peel: LaMarca.
Heinze Beck (Non-pizza culinary event): John Coletta, Quartino Ristorante Pizzeria and Wine Bar, Chicago.
Pizza for Two: Coletta and Gino Rago; LaMarca and Samosky; Giordano and Russo; Drew French and Natalie French; and Joey Streeter, Tampa, Florida, and Jamie Culliton, St. Petersburg, Florida.
Largest Dough Stretch: Sommers.
Fastest Dough Stretch: Sommers and Volpe.
Individual Acrobatics: Volpe, Culliton, Streeter, Michael Reyes-Casanova, Five Points Pizza.
PMQ Pizza Magazine, the business trade publication for the pizza restaurant industry, created the Groupon U.S. Pizza Team in 2000. The team is sponsored by Groupon, Grain Craft, California Milk Advisory Board, Gordon Food Service, WestRock, SOFO Foods, LaNova, Paradise Tomato Kitchens, Bag Solutions, Fontanini Meats, Lillsun, Marsal and Sons, Univex, PizzaInsurance.com and Presto Foods.
For more information, contact Anna Zemek, PMQ Pizza Magazine at 662-234-5481 x140 or Michael LaMarca at 440-341-0826.