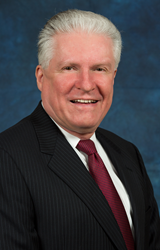 "I find this company to be truly refreshing,"
Philadelphia, PA (PRWEB) April 11, 2016
Nigel Fullick's bio doesn't sound like that of a top loan originator. Born in London, England, a proud US Army veteran, a graduate of Florida Atlantic University, an original member of the US Speed Skiing Team, current board member of Habitat for Humanity and Chairman of the Art in Public Places Board for the City of Bonita Springs, he sounds more like a candidate for Most Interesting Man in the World.
But Nigel Fullick has found time to learn a thing or two about the mortgage industry—at least enough to be named president of the Mortgage Bankers Association of Southwest Florida by his industry peers—and he now knows that New Penn Financial, which added Nigel's five Southwest Florida offices in December of 2015, is the company he will look to expand with.
"We should add an additional three locations before 2018," Nigel stated. While his customer service platform of high availability and constant contact has gotten his branch this far, the long term goal is to take advantage of New Penn's newly acquired operations and support teams to fuel further expansion.
"Now that we've been with New Penn for five months, I can say that I find this company to be truly refreshing," he said from his Bonita Springs office, one of five along the Gulf Coast. "New Penn has both the strength of a national company, and the nimbleness of a small company."
Mr. Fullick was impressed with New Penn even before he and business partner, Gerry Teeven, signed on with the company. "That was just the courting period, though," he admitted. "From the beginning, the transparency we got from [CEO] Jerry Schiano was refreshing. He offered us the autonomy to continue to run our branches the way we want, while supporting us with a top-notch operations team and all the loan products we needed to be successful, and expand in our market. He came through on everything he promised."
It is New Penn's support teams that have impressed Mr. Fullick the most. "When problems arise, which they inevitably do in our industry, the response times from operations, secondary and underwriting are extremely efficient," he said. "As for marketing, any loan officer with even a rudimentary understanding of technology, and especially social media, will be blown away with what New Penn provides. They don't just offer tools. They actually listen and provide direction, which allows loan officers to be proactive in growing their business. New Penn has given us everything we need to meet our goals of expanding in Southwest Florida."
About New Penn Financial
New Penn Financial® continues to assemble deeply experienced and highly seasoned industry leaders, making us one of the fastest-growing and largest lenders in the nation. As a direct lender and servicer, we have positioned ourselves to be able to provide loans that serve a variety of scenarios. This allows us to assist more customers, while maintaining the highest compliance standards and ensuring great customer service at every stage. Our leadership has successfully and strategically directed their teams to be prosperous during the downs of a challenging economy, while capitalizing on the potential of a robust one. This depth of wisdom and focus on quality allows us to innovate with confidence, develop superior products, provide exceptional service and support, and back it up with the kind of solid foundation that is renewing the American Dream all across the country.