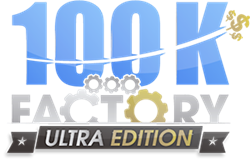 Our 100K Factory Review now includes a bonus valued at over $3000
Boston, MA (PRWEB) April 05, 2016
Harvard Avenue Ventures LLC, a provider of publishing platforms for e-commerce and customer acquisition, has a added a bonus valued at over $3000 for customers that join the 100K Factory Ultra Edition's 7-step system. This new bonus is in addition to our previous announcement of our 100k Factory review video analysis of the 7-step methodology for growing online businesses, available for prospective entrepreneurs looking to research 100k Factory during its launch.
100K Factory Ultra Edition, launching today by Steve Clayton and Aiden Booth, is a 7-step system of ecommerce publishing and lead acquisition techniques for creating a lucrative income stream. These techniques can be applied to any online business from affiliate marketing, physical products, info product creation, and Kindle product marketing, among others.
Our short video analysis of 100K Factory Ultra Edition's detailed 55-page case-study will help entrepreneurs evaluate the benefits and value of this eCommerce system. An innovative 2-tier traffic channel and unique conversion-to-sale techniques are hallmarks of this new system.
Since 2009, Harvard Avenue Ventures has helped more than 50,000 publishers cut through the noise and grow their online businesses.
About Harvard Avenue Ventures LLC
Harvard Avenue Ventures is a business incubator founded in 2006. Our core expertise is in software development, web and mobile publishing systems and e-commerce membership platforms. We currently own and operate over a dozen SaaS businesses in the publishing and marketing space.
Our main SaaS businesses are created through investments in separate entities and currently include WPDirect, helping entrepreneurs with online customer acquisition since 2008 and ImpressApp, our recently released web & mobile publishing platform.
Harvard Avenue Ventures also provides consulting to companies seeking technology innovation in new customer acquisition.