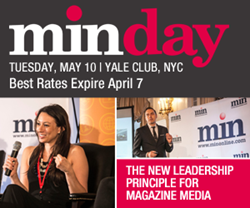 New York, NY (PRWEB) April 05, 2016
The min day Summit on May 10th at the Yale Club in NYC is a place where magazine media professionals can focus on leveraging our industry's specific challenges, promises and best practices. Reaching more people, through more channels, inspiring more passion and increasing engagement, growing revenue and getting smarter about your business—these topics are at the heart of what the industry is talking about and what the min day Summit is all about. This one-day conference is for magazine-media professionals and will deliver the most mission-critical trends and best practices available in the industry. Registration rates will increase after April 7, so register soon for the best savings.
View Complete min day Information.
We have an exciting lineup of speakers from magazine media, advertising agencies, tech companies and more. The phenomenal speaker roster for this year's event includes:

Renee Appelle, Rodale
Christian Baesler, Bauer Xcel Media
Linda Thomas Brooks, MPA – The Association of Magazine Media
Larry Burstein, New York Media
Scott Burton, ESPN The Magazine
Iliana Carlo, People en Español
Elise Contarsy, Meredith Corporation
Craig DiNatali, Google
Gavin Dunaway, AdMonsters
Melina Ex, Fetch
Mike Huffstetler, Domino
Kate Lewis, Hearst Digital Media
Anthony Licata, Bonnier New York
Rajiv Mody, National Geographic
Shenan Reed, MEC Global
Mike Suggett, TEN/MindOverEye
Veronica Wilson, Meredith – Hispanic Media Division
Seujin Yang, People & Entertainment Weekly
Magazine media has changed. Not only is change still happening, it's accelerating. What's working today may not work tomorrow. But industry transformation offers opportunities - new revenue sources, deeper engagement with audiences, new content products, tools that allow brands to scale quickly and technologies that fuel growth and increase efficiency. min day 2016 will offer new ideas and proven strategies to unlock those opportunities for magazine-media professionals across the business.
The ten carefully-crafted sessions include:
What Advertisers Want (and Need) This Year
The New Dynamic: How Publishers and Agencies Can Optimize Their Partnerships
Social Media: The Frontline of Audience Development
Content Consumption in a Mobile-First World
Digital Advertising's Biggest Challenges
Your Brand Is Only as Good As Its Experience
Print Versus Digital: Not a Zero-Sum Game
New Revenue Streams: From TV to Retail
Hispanic Marketing: What You Need to Know
Building a Loyal Audience With Original Programming
Not only will min day 2016 attendees have the opportunity to network with the speakers, but there are also multiple breaks built into the agenda as well as an end-of-day reception to ensure ample networking time will peers.
For more information and to register for min day, visit http://www.minday2016.com. Best rates expire April 7, so register soon before prices increase.
For registration questions regarding min day, contact Rachel Feldman at rfeldman(at)accessintel(dot)com. For sponsorship inquiries, contact Tania Babiuk at tbabiuk(at)accessintel(dot)com.
min day is brought to you by min, the industry's trusted source on the consumer and b2b magazine business, reaching thousands of media executives through print, online and in-person events. For more than 60 years, min has been serving the magazine and media community with unparalleled coverage of this ever-changing industry. Visit min at http://www.minonline.com.