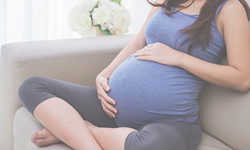 Safely & effectively treat the cause of DVT at little or no cost to you.
Southeast, United States (PRWEB) April 12, 2016
DVT Prevention for Pregnancy is excited to announce the launch of http://www.dvtpregnancy.com. The new website is devoted to heightening awareness of deep vein thrombosis (DVT) and pulmonary embolism (PE) in women during pregnancy and offering advice, information and non-pharmaceutical options for preventing DVT.
With its products, women can rest easy knowing that they and their babies are safe and protected from the effects of blood clots without using potentially dangerous medications.
Pregnancy brings more than morning sickness and fatigue; it brings a risk of DVT, a preventable condition in which blood clots form in the veins. In fact, DVT during pregnancy can be life-threatening, so if someone is at risk or on bed rest, it is imperative that she take steps toward prevention.
DVT Prevention for Pregnancy's products are designed to help prevent the occurrence of blood clots in the deep veins of the legs with flexible, simple intermittent pneumatic compression (IPC) therapy. Intermittent pneumatic compression devices prevent venous thrombosis and DVT by enhancing blood flow in the deep veins of the legs. These devices inflate and deflate knee-high boots, which reduces pooling of blood in the legs. This non-invasive therapy is the best alternative for pregnant women wanting to limit the medications their unborn child will be exposed to.
Hospitals have been using similar blood clot prevention devices for decades with great success. However, never before has this therapy been available with such convenience at home. This in-home convenience makes intermittent pneumatic compression devices ideal for busy pregnant women and those on bed rest.
These in-home devices drastically diminish the risk of pregnancy-related DVT while reducing the costs involved in diagnosing and treating the condition. Indications for use are noted below:

Aiding in DVT prevention
Enhancing blood circulation in pregnant women on bed rest
Diminish post-operative pain & swelling
Reduction of edema in the lower limbs
DVT is not worth the risk to you or your baby! Consult with one of DVT Prevention for Pregnancy's specialists to get approved for an in-home unit today. Simply fill out the online form on the website and be contacted within 24 hours. The ordering process is simple, and the company bills the client's insurance, ships the device and offers patient education for a completely hassle-free way to help prevent DVT-causing edema at home.
For more information, please visit http://www.dvtpregnancy.com.
Contact Information:
Info(At)dvtpregnancy(Dot)com
954.706.8151
https://dvtpregnancy.com/