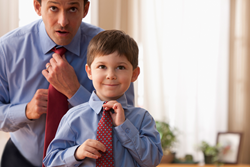 We believe Take Our Daughters and Sons to Work Day is an excellent program that inspires our youth to dream big and work hard to achieve their goals -- Liz Carisone, GroundLink CEO
New York, NY (PRWEB) April 05, 2016
On April 28th millions of workplaces, employees, parents and children will celebrate the 23rd anniversary of the Take Our Daughters and Sons to Work Day program. Last year alone 37 million children accompanied a parent to work. To make getting to the workplace easier and more affordable, GroundLink, the New York-based, black car service for discerning travelers, is offering a fifteen percent discount nationwide for two, one-way rides taken from April 25th to April 29th (using promo code GOTOWORK2016). The company is also encouraging parents to share their Take Our Daughters and Sons to Work Day experiences and photos on social media with the tag @GLGOTOWORK2016 to be entered to win $1,000 in scholarship money to be put towards their child's education.
"We believe Take Our Daughters and Sons to Work Day is an excellent program that inspires our youth to dream big and work hard to achieve their goals. We're pleased to introduce America's future workforce and their parents to GroundLink's service with a special discount and also provide parents the opportunity to win some extra cash to help offset the high cost of education today," said Liz Carisone, CEO of GroundLink.
GroundLink offers bookings through their mobile app available in the App Store and Google Play, through their website GroundLink.com as well as through their 24/7 Customer Service Center. With GroundLink's mobile app, travelers can schedule rides in advance and in New York, travelers can also book on-demand rides using the app's Ride Now® feature. For full price transparency, customers are able to see the full price breakdown of their trip in advance of booking their ride. Customers can also track their car in real-time and communicate directly with their driver. Once the ride is complete, customers receive e-receipts.
About GroundLink
GroundLink is the reliable and safe black car service provider for discerning travelers. Available in major cities throughout the world and offering the industry's only on-time guarantee, GroundLink focuses on duty of care, with professional drivers who are screened, properly licensed and fully insured. GroundLink offers a multiple booking platform for its consumer and corporate clients that includes its website (http://www.groundlink.com), its iPhone or Android app, and its 24/7 Customer Service Center (855.463.7150). GroundLink has offices in North America and Europe, with its headquarters in New York, NY. Connect with GroundLink on Twitter @GroundLink and on Facebook.com/GroundLink.
# # #