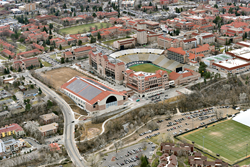 Boulder, CO (PRWEB) April 13, 2016
Mortenson Construction, a leading builder of sports facilities in the U.S., has just completed one of the most transformational capital construction projects in intercollegiate athletics at the University of Colorado – Boulder.
Key elements of the project include:

A 212,000-square-foot expansion to Folsom Field
The state-of-the-art Champions Center, which serves as the new home of CU Football and many Olympic sport coaches and the Athletic Administration. The Champions Center houses a team locker room and lounge, team dining facilities, and a rooftop terrace for game-day and special events
A new Sports Medicine and Performance Center that is open to the public
A 37,000-square-foot renovation of Dal Ward Athletic Center, which includes the addition of a men's & women's Olympic sport locker room, expansion of the Academic Center and a new weight room
The construction of a 108,000-square-foot, net zero energy (NZE) indoor practice facility. This facility serves all sports programs and the six-lane 300-meter competition-venue track allows CU to host IAFF and NCAA sanctioned track and field events on campus
A 534-car underground parking garage below the Indoor Practice Facility
Franklin Field, a 106,000-square-foot outdoor grass practice field, adjacent to the Indoor Practice Facility
"Our vision of sustainable excellence is about transforming opportunity," said Rick George, University of Colorado Athletics Director. "In achieving this vision, each student-athlete that takes the field in black and gold will do so bolstered with the knowledge that we've provided them with every resource necessary to be successful – both in competition and in life beyond graduation."
The new facilities are designed to help student-athletics achieve peak performance, while centralizing CU's athletic programs and providing unified and more efficient operations. Additional premium seating and a new rooftop terrace with stunning panoramic views of Boulder's signature Flatirons mountain range enhances the fan experience. New dining and beverage options were also added.
During the construction of the project, Mortenson helped engage the community and various stakeholders by creating an interactive model of the project that users could navigate using a game controller. The exhibit was also displayed on a mobile TV in campus buildings near the stadium and served as a communication and fundraising tool.
The Mortenson design/build team completed the fast-paced project without significant disruption to daily campus activity, and the seating portion was completed prior to the start of the football season, allowing revenue generation for the owner.
Project Statistics

3,161 total workers on the project
Peak workforce of 600 craft workers onsite in one day
550+ days without a recordable injury on the Indoor Practice Facility
Design/build delivery with Populous as the architect
2,604 solar panels creating approximately 1,200 MWh/year of power generation
1,876 seats upgraded
90-foot maximum height on the Indoor Practice Facility to allow punting without interference
5 hydrotherapy pools (hot, cold, treadmill and two recovery)
11,285-square-foot weight room
2,270 tons of sandstone and limestone
About Mortenson Construction
Serving Colorado for 35 years, Mortenson is a U.S.-based, family-owned construction and development services company. As one of the nation's top builders, Mortenson provides a complete range of construction services, including planning, program management, preconstruction, general contracting, construction management and design-build. The company also is a leader in real estate development, developing all asset types. Mortenson has operations across North America with offices in Denver, Chicago, Iowa City, Madison, Milwaukee, Minneapolis, Phoenix, Portland, Oregon, San Antonio, Seattle and Winnipeg. For more information, visit mortenson.com.