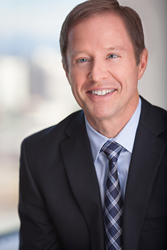 This honor should come as no surprise to anyone who knows Bruce Campbell.
Portland, Oregon (PRWEB) April 05, 2016
West Coast law firm Miller Nash Graham & Dunn announced today that partner Bruce Campbell has received national recognition from the American Academy of Appellate Lawyers (AAAL), an organization that recognizes outstanding appellate lawyers. Campbell was selected as an AAAL fellow in March and was formally inducted into the organization on April 1.
"This honor should come as no surprise to anyone who knows Bruce Campbell," said Dennis Rawlinson, Firm Chair at Miller Nash Graham & Dunn. "Membership in AAAL is reserved for a select few appellate attorneys who have demonstrated the highest skill level and integrity in their practice. Bruce has demonstrated both throughout his career, and I am so pleased that he is being recognized as one of the best appellate lawyers in the country."
Membership to AAAL is by invitation only, and nominations to become an AAAL fellow must be made by current fellows. Following nomination, the legal and judicial communities carefully and confidentially consider each nominee's work in appellate law and his or her ethical integrity. A final decision on determining which nominees become fellows is made by a vote of AAAL's Board of Directors. Membership in AAAL is limited to 500 people across the United States.
To be recognized as a fellow, an attorney must also have substantially focused his or her practice on appeals during the last 15 years.
Appellate law is a specialty with its own rules. A lawyer who regularly practices in appellate courts must be able to navigate particular appellate rules, select the right issues and arguments to advance in a case, write briefs that focus on the most important matters to a judicial audience and craft oral arguments that meet the needs of both judges and clients.
About Bruce Campbell
Bruce Campbell serves in the Miller Nash Graham & Dunn litigation department and heads the firm's Portland, Oregon litigation, and appellate practice teams. His practice emphasizes appeals, securities litigation, and commercial litigation. He served as a judicial clerk for Ninth Circuit Court of Appeals Judge Cecil F. Poole in San Francisco, and he has handled matters involving securities, shareholder litigation, school law, energy law and antitrust and trade regulation. He has represented clients in many high-profile and multimillion-dollar-cases, including ZRZ Realty Co. v. Beneficial Fire & Cas. Ins. Co., PacifiCorp v. SimplexGrinnell LP, Ocean Beauty Seafoods v. Pacific Seafood Group, Haugen v. Kitzhaber and C.O. v. Portland Public Schools. Campbell received his B.A. in finance from the University of Oregon, his M.M. in accounting and finance from Kellogg School of Management Northwestern University and his J.D., cum laude, from the University of Michigan.
About Miller Nash Graham & Dunn LLP
Miller Nash Graham & Dunn is a premier West Coast multiservice law firm, offering comprehensive, responsive and innovative services to clients, ranging from businesses, nonprofit organizations and public-sector entities to individuals. The firm's clients operate in a variety of significant industries, including banking, construction, education, energy, food & beverage, government, manufacturing, real estate, securities and technology. More information is available at http://www.millernash.com.