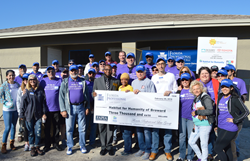 Marc Ben-Ezra, Managing Attorney for FLPLG said, "Everyday, we help homeowners with property damage to recover money from their insurance companies to restore their homes. This is a great way to help a family to have a home."
Pompano Beach, Florida (PRWEB) April 07, 2016
http://www.flplg.com/newsphotos/flplg-newspix/
Florida Professional Law Group property insurance attorneys, their staff, Florida Association of Public Insurance Adjusters (FAPIA) and FAPIA's Community Affairs Committee staged a "Home Build Day" to open their hearts, volunteer and to "Pay it Forward" to a local community in need at a Pompano Beach, Florida construction site with Habitat for Humanity of Broward.
The organizer of the Habitat "Build Day" program was Marc Ben-Ezra, Managing Attorney for Florida Professional Law Group, (FLPLG). Ben-Ezra said, "In our daily work we help homeowners with property damage to recover money from their insurance companies so they can restore their homes. This is a great way to help a family to have a home. My law firms have participated in Habitat for Humanity building days for years. They are an excellent way to give back to the community and are consistent with our law firm's mission. We frequently work together with public adjusters on these cases. They know a lot about construction and helping homeowners so this whole activity with the Florida Association of Public Insurance Adjusters was a great fit. We discussed the partnership opportunity with FAPIA's Managing Director, Nancy Dominguez, FAPIA Community Affairs Chair, Karen Schiffmiller and FAPIA President Mike Rump and they enthusiastically got onboard. We thank Habitat Board Member Robert Leider for making the day run so smoothly. We couldn't be happier to have participated in this meaningful program."
FAPIA's President, Mike Rump kicked off the ceremony by saying, "We frequently contribute to our communities. This build day program offers a special avenue for public adjusters and our friends at Florida Professional Law Group to work together to show compassion to help those in need near where we live. We are very proud to have public insurance adjusters participate from all over the state."
Schiffmiller said, "We are happy to be here today. I can't bear the thought of a family not having a home. FAPIA's Community Affairs mission is to give back. We can all do something to help the families in our communities to have a place to live."
Brandon James, Legislative Aide and Community Outreach Director for District 92 attended on behalf of Representative Gwendolyn Clarke Reed to show support for this initiative.
During the opening remarks, Robert W. Leider, Habitat for Humanity of Broward Board Member/ VP WSVN introduced future homeowner, Jennifer O'Neal and discussed Habitat Broward's mission of providing a hand-up.
Marc Ben-Ezra of Florida Professional Law Group provided the Habitat Broward donation and presented the check with FAPIA to Habitat's Board Member/WSVN VP Robert Leider for the volunteer team building opportunity. It was a heartwarming experience to see the homeowner's gratitude as she thanked the organizations for their efforts and led a prayer to start the program. Jennifer, a 13-year Walgreen's employee and her family have gone through a 2-year process to qualify, to learn about homeownership and to participate in the construction of their future home. They are incredibly grateful to Habitat of Broward and to the volunteers that came out to help with her home.
Habitat's Construction Site Supervisor took over the program as participants got involved in their build day activities. They worked hard and enjoyed the camaraderie to help Habitat of Broward. Jennifer worked alongside volunteers on her future home.
"We can't thank these organizations enough for supporting Habitat of Broward," said Bill Feinberg, Habitat for Humanity of Broward's Board Chair and President of Allied Kitchen and Bath. "It's a very unique opportunity for public adjusters to come together as an industry to build a local community."
Nicole Shacket, FLPLG Attorney and Operations Manager said, "It feels really good to volunteer jointly with FAPIA's Community Affairs Committee to do something for others. We communicate often for business, but it's incredibly rewarding to chat as we work together side-by-side towards a common goal to make life nicer for others."
"Our members are do-gooders who thrive when they see the positive results that their efforts have on their local communities," said FAPIA's Managing Director, Nancy Dominguez.
About Florida Professional Law Group, PLLC
Marc Ben-Ezra is the Managing Partner / Attorney for Florida Professional Law Group (FLPLG), a firm that aggressively represents residential and commercial property owners to help recover the maximum amount public adjusters and their clients deserve when insurance companies have improperly adjusted, investigated, denied or under-paid a claim. FLPLG - There for You When your Insurance Company Isn't™
http://www.flplg.com