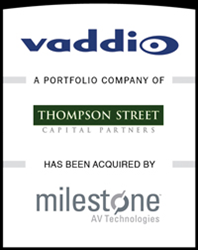 Charlotte, NC (PRWEB) April 05, 2016
BlackArch Partners is pleased to announce the sale of Vaddio, a portfolio company of Thompson Street Capital Partners ("TSCP" or "Thompson Street"), to Milestone AV Technologies, a Pritzker Group Private Capital company.
Headquartered in Minnetonka, Minnesota, Vaddio (http://www.vaddio.com) is the premier global manufacturer of PTZ cameras, professional AV solutions and a full suite of Unified Communication and Collaboration products for the audiovisual, videoconference and broadcast marketplaces. Combining enterprise-class performance and industry-leading support with system-configured design for simplicity of installation and operation, Vaddio products enhance any AV experience by elevating the science of communication with the Art of Easy.
BlackArch was retained by Thompson Street Capital Partners and management to serve as their exclusive financial advisor.
About Thompson Street Capital Partners
Thompson Street Capital Partners (http://www.tscp.com) is a St. Louis-based private equity firm focused on investing in founder-led middle market businesses headquartered in North America. Founded in 2000, TSCP partners with companies in the business services, healthcare services and engineered products sectors and creates value by supporting accelerated growth.
About Milestone AV Technologies
Milestone AV Technologies (http://www.milestone.com) is a leading provider of branded audio-visual mounting equipment, projection screens and related display solutions for both the consumer and the commercial markets. Milestone's innovative products, sold principally under the Chief®, Da-lite®, SANUS® and Projecta® brands, are sold through numerous channels, including Pro AV dealers, home theater dealers, consumer electronics retailers, mass merchants and original equipment manufacturers. Headquartered in Eden Prairie, Minnesota, the Company serves a broad base of over 5,000 global customers.
About BlackArch Partners
BlackArch Partners is a leading middle-market investment bank offering a full spectrum of advisory services to financial sponsors, private companies and diversified corporations. BlackArch addresses the needs of owner-operators, founders and shareholders of private companies with specialized services that include M&A advisory, strategic advisory and private capital solutions. Headquartered in Charlotte, NC, with offices in Houston, TX, BlackArch features a total of 12 industry-focused practices that cover all sectors of interest to middle-market investors; BlackArch professionals have closed more than 300 transactions in 16 countries on four continents. Please visit our website, blackarchpartners.com, for more details.
Securities offered through BlackArch Securities LLC. Member FINRA and SIPC.