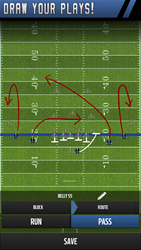 The Jon Gruden Football Game gives football fans the opportunity to test their play-calling skills, develop their own strategy and actually draw their play
Dallas, TX (PRWEB) April 04, 2016
Available for free today, the Jon Gruden Football™ app challenges gridiron experts and casual fans alike to a unique mobile strategy game experience designed to test their play calling skills. The latest update to the app gives players a more robust multiplayer experience to match wits with their friends down the block or around the world.
Select your team logo and uniforms, submit your coaching name, choose an opponent and you are ready to build your football empire!
Players compete through either multiplayer or singleplayer game modes to win 'Gruden Gold'.  This currency allows players to upgrade their teams to take on more challenging opponents. Players can put points into dozens of upgrade categories depending on their play style.  Improve your Quarterback's accuracy, beef up your defensive line to shut down the run or turbo charge your receivers to break free from the pack.
Other football apps only allow you to select a set number of plays, but Jon Gruden Football™ has a unique 'Draw the Play' system that allows players to naturally sketch their custom strategies directly on the field with their finger. This allows players to create and store an unlimited number of plays to execute against other players.
"I am extremely excited about the latest update to my football game. Calling plays was enjoyable as a coach", said Super Bowl winning coach Jon Gruden. "The Jon Gruden Football Game gives football fans the opportunity to test their play-calling skills, develop their own strategy and actually draw their play! You can compete against your friends or people around the world. I hope you play and have fun!"
Draw the Play has incorporated numerous updates into the most recent 4.1.1 release including better multiplayer matchmaking, improved user experience & game flow and several performance optimizations.
The Jon Gruden Football™ app is available for iOS 7.0 and higher and Android 4.1 and higher and can be downloaded for free from the iTunes or Google play app stores at: http://onelink.to/s2yb