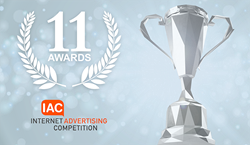 Valencia, CA (PRWEB) April 05, 2016
Internet marketing company Scorpion swept the 2016 Internet Advertising Competition (IAC) Awards, receiving 11 awards for websites it designed and developed. As the honoree with the second-highest number of awards, Scorpion was named one of IAC's Outstanding Advertising Developers for 2016. The winning entries and information about the competition can be viewed on the IAC Awards website (http://www.iacaward.org).
The awards recognize excellence in online advertising, particularly in the areas of creativity, innovation, impact, design, copywriting, use of the medium, and memorability, according to the IAC Awards website. The entries, which spanned all forms of online advertising, were reviewed by independent expert judges. This is the fifth year in a row that Scorpion has been honored with "Best" and "Outstanding" website awards in the IAC Awards.
Here are the 11 IAC awards Scorpion received for 2016:
Best Health Care Website
Deer Lodge Medical Center - dlmed.org
Best Legal Website
Bailey Peavy Bailey Cowan Heckaman, PLLC - bpblaw.com
Best Medical Website
Turning Point, Inc. - turningpointnj.org
Outstanding Website
The Buncher Law Corporation - buncherfamilylaw.com
Outstanding Website
Tutor Doctor - tutordoctor.com
Outstanding Website
Five Star Painting - fivestarpainting.com
Outstanding Website
David Finn, P.C. - dallascriminallawyer.com
Outstanding Website
Dobrish Michaels Gross LLP - dmglawny.com
Outstanding Website
Schimmel & Parks - spattorneys.com
Outstanding Website
Wildlife Lawyers, a Division of Feldmann Nagel, LLC - wildlifelawyer.com
Outstanding Website
Mountain View Regional Hospital - mountainviewregionalhospital.com
In addition to being beautifully designed and expertly branded, Scorpion websites are also built to include optimal speed, functionality, and search engine-friendliness. Scorpion combines its expertly designed websites with competitive Internet marketing and advertising campaigns to help clients improve their online visibility and attract more business.
Other awards that Scorpion has received over the years include WebAwards, MobileWebAwards, The Communicator Awards, W3 Awards, AVA Digital Awards, and eHealthcare Leadership Awards. In addition to that, Scorpion is one of less than 35 companies to be selected as a Google AdWords™ Premier SMB Partner, meaning it has been identified by Google for its expertise in assisting small and medium-sized businesses with their AdWords campaign management.
To learn more about Scorpion's awards, visit http://www.scorpion.co/awards.
About Scorpion
Scorpion provides award-winning websites and Internet marketing campaigns that help clients reach the right online audience and attract more business. Scorpion's services include website design, search engine optimization (SEO), pay-per-click (PPC) advertising, online reputation management, social media marketing, video advertising, and more. Over the past 15 years, Scorpion has managed thousands of campaigns and delivered millions of leads across North America. As one of America's fastest growing private companies, it has been named on the Inc. 5000 list each year since 2011. The company has also among a small group of companies to be chosen as a Google AdWords™ Premier SMB Partner. For more information about Scorpion, visit http://www.scorpion.co.