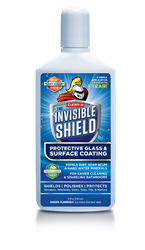 (PRWEB) April 06, 2016
Due to the increased demand by the consumer and professional users to protect their surfaces, Unelko has developed a successful retail and professional program for DIY stores, hardware and sanitary stores and other outlets.
Thanks to their newly-launched program, Unelko is already receiving worldwide recognition for their new, CLEAN-X Invisible Shield® "Easy Clean" Nanotechnologies by numerous companies from the cleaning industry.
For example, the newest nanotechnology product by Clean-X available to retailers worldwide is the Invisible Shield Shower, Tub & Tile Protector Kit that contains everything consumers need to shield, polish and protect all glass, porcelain and ceramics against soil, soap scum, mold, rust and hard water mineral, calcium or lime stains in the bathroom and kitchens for up to one year, and even longer on windows and patio doors around the house.
Consumers who enjoy the benefits of non-stick cookware will be sure to cherish the easy-clean benefits of the Invisible Shield products on their shower glass, mirrors, porcelain sinks, tubs and toilets, and on ceramic tile walls, floors and counters. By using the Clean-X Invisible Shield line of "Dual- Action" Cleaner/Coating products, consumers will find that they keep working long after each cleaning due to the invisible 'protective barrier' the products impart that reduce the adhesion of mineral build-up and soil in between cleanings.
"Unelko is making a big splash in nanotechnology. It has become of age," said President of Unelko Steve Ohlhausen. "Consumers more than ever before want to know how to protect their surfaces and keep them in pristine condition."
Unelko will be exhibiting their newest products at the Upcoming National Hardware and Glassbuild America Show in Las Vegas as well as Glasstec International in Germany. Visit http://www.cleanxproducts.com to learn more or call 1.800.528.3149.