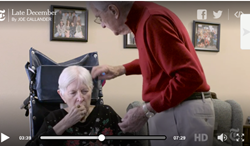 "I believe one of the most basic acts of love is just to keep showing up," Callander said.
FORT WORTH, TX (PRWEB) April 05, 2016
Retail leather goods company Saddleback Leather Co. premiers their second short documentary in The New York Times Op-Docs section. After creating a Filmmaker-in-Residence program in 2013 for filmmaker Joe Callander, Saddleback has premiered two films at the Sundance Film Festival, and has had two films screen on the New York Times. Callander also produces all of Saddleback's brand videos.
Late December is the story of one man's unbroken devotion to his wife of 63 years, even as Alzheimer's has steadily eroded her mind and memory over the past eight years.
Filmmaker Joe Callander became interested in loss as a storytelling theme while filming his first Op-Doc for the New York Times, Midnight Three & Six, which tells the story of a girl who lost the function of her pancreas to Type 1 diabetes.
"I believe one of the most basic acts of love is just to keep showing up," said Callander, of Late December. "My goal in making this film was to capture this simple act of love at the end of life."
"I try do whatever I can to make my employees as successful as possible," Saddleback owner and president Dave Munson said. "When I created this residency position for Joe back in 2013, a lot of people thought I was crazy. I don't think too many people are thinking that these days."
NY Times Op Ed film, "Late December."
About Saddleback Leather
Saddleback Leather Co. traces its origins back to a single bag, designed and built for Dave Munson when he was volunteering and working in Mexico. In search of the perfect bag at the time, Munson commissioned a local leather craftsman to build his design. As the quantity of orders from fellow travelers could not be denied, Munson started Saddleback Leather Co. in 2003, bringing together classic design with his signature take on personal, indestructible functionality. Thousands of bags later, the Saddleback Leather collection features heirloom-level bags and small accessories produced with the highest quality leather that will age to reflect the owner's trials and travels. Saddleback Leather, They'll fight over it when you're dead.™