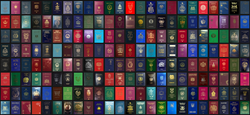 In an age of increasing mobility, becoming a Global Citizen has never been more desirable.
Montreal, Canada (PRWEB) April 05, 2016
Arton Capital, the global leader in residency and citizenship solutions, launched its latest edition of the Passport Index - a ranking system to reveal the benefits of each passport from around the world.
Passport Index positions countries based on the power of each passport, determined by Arton Capital's three-tier method which combines a ranking for 'Visa-free' travel, together with 'Visa on arrival' ratio, with the country's score as attributed by United Nations Development Programme Human Development Index to take account of the jurisdiction's international perception. Essentially, the Index serves to understand and visualize the power of each passport on the holder's identity, opportunity, mobility and overall quality of life. The 2016 version of the Index allows users to explore a list of visa conditions for each passport.
Germany ranks the most powerful passport in the world, with a visa-free score of 157, followed by Sweden, Finland, Italy and Switzerland.
The passport of the United States of America occupies 4th rank of the most powerful passports in the world, together with Austria, Portugal, Luxemburg and Singapore. USA passport holders can visit 154 countries without visa, or with visa on arrival and now the Passport Index shows you which ones they are.
Canadian passport holders can visit 152 countries visa-free, which ranks them 6th together with New Zealand. Canada on the other hand allows citizens of only 51 countries to enter visa-free.
The highest ranked passports in Asia are those of South Korea, ranked 3rd, with a visa-free score of 155, followed by Singapore (4th), Japan (5th) and Malaysia (8th).
The highest ranked European country with an available Citizenship by Investment program is that of Malta, ranked 7th, followed by Cyprus (11th) and Bulgaria (14th).
The highest ranked Caribbean country with an available Citizenship by Investment program is Antigua and Barbuda, ranked 25th in the world and 2nd in the region, followed by St Kitts and Nevis (26th) and Saint Lucia (29th).
Passport Index' new 2016 Welcoming Rank showcases the most and least welcoming countries in the world, ranked solely on the the number of countries they accept visa-free or with visa on arrival. Dominica ranks the most welcoming country in the Caribbean and 2nd in the world.
Although the world's top 10 passports this year are all European, it is relatively difficult to obtain visa-free mobility to its member states. According to the UN World Tourism Organisation, on average 76% of the world's population are required to obtain a visa prior to departure to Europe.
Passport Index offer visitors the chance to discover their own Global Mobility Score on their website, allowing users to compare different passports side by side and evaluate the total number of countries they can visit visa-free.
Armand Arton, President of Arton Capital said: "Many people around the world consider their passports a barrier to their opportunities in life and choose to empower their identity and global footprint by obtaining a second citizenship through investment.
"In an age of increasing mobility, becoming a Global Citizen has never been more desirable. Investing in a second residency or citizenship is a liberating and empowering privilege, which comes with a responsibility to the world."
Arton Capital, known for its significant creative influence and innovative culture is the driving force behind the global citizenship industry. Praised for its bespoke service and attention to detail, Arton has influenced the industry's growth to a multi-billion dollar a year in foreign direct investments attracted by countries. Today, over 20 countries are offering investor immigration programs including Canada and the USA, which are in close competition for high net-worth investors from around the world.
###
About Passport Index
Passport Index is the world's most popular online interactive tool, which collects, displays and ranks the passports of the world. It is the only real-time global ranking of passports, updated as frequently as new visa waivers and changes are announced. Visitors can dive in the fascinating world of passports, explore their designs, sort them by country, region and even by color. For the first time ever, visitors can compare passports side by side.
(http://www.passportindex.org)
About Arton Capital
Arton Capital empowers individuals and families to become Global Citizens. As a global financial advisory firm, specializing in investor programs for residence and citizenship Arton plays a critical role in helping governments, partners and investors to meet their goals quickly, efficiently and more effectively. Arton's global operations are spread in over 15 offices around the world and have helped attract over US $2.7 billion foreign direct investment by countries. Curator or the Global Citizen Forum, and founder of the Global Citizen Foundation, Arton Capital is a member of The Arton Group, which comprises of fully licensed international banking, financial advisory and investment consulting companies tailored to the needs of global citizens. (http://www.artoncapital.com)
Media Enquiries
Georgia Taylor, Communications Manager, Arton Capital – Empowering Global Citizenship®
E media(at)artoncapital(dot)com T +514 935 6665