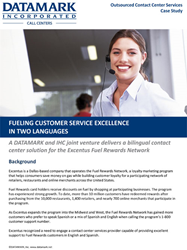 El Paso, Texas (PRWEB) April 09, 2016
DATAMARK, Inc., a leading provider of outsourced business services, has released a new case study highlighting a joint venture to provide bilingual call center services for Excentus' Fuel Rewards Network.
Dallas-based Excentus is the owner and operator of the Fuel Rewards program, a free loyalty program that allows its members to earn rewards on everyday purchases redeemable for fuel savings at participating Shell stations across the U.S.
The program has expanded rapidly across the United States, offering fuel rewards to customers of 10,000 participating restaurants, 1,400 retailers and 700 online merchants. Brands associated with the Fuel Rewards program include Shell and MasterCard, Staples, Lowe's, Home Depot, Kohl's, Macy's, TCBY, Which Wich and many other well-known retailers and restaurants.
DATAMARK and human capital solutions firm Integrated Human Capital (IHC), both Texas-based companies, formed a joint venture, Oveana Global Business Services, to provide bilingual call center services for Excentus' Fuel Rewards Network.
Oveana is majority owned by El Paso native Rosa Santana, owner and CEO of IHC. Santana serves as Oveana's CEO. DATAMARK, founded by Bill and Becky Holmes, has provided outsourced business services in the El Paso-Juarez region for more than 25 years. DATAMARK President Bill Randag serves as Oveana's vice president.
The case study describes how DATAMARK and IHC helped Excentus lower operating costs while improving customer service for the Fuel Rewards program.
Download the case study, "Fueling Customer Service Excellence in Two Languages," at this link:
http://info.datamark.net/FuelingCustomerExcellence.html
About DATAMARK
DATAMARK, Inc. is a leading business process outsourcing company specializing in contact center services, high-volume digital mailroom management, document processing/document management, and process improvement consulting for Fortune 500 companies and other large enterprises.
Headquartered in El Paso, Texas, DATAMARK employs nearly 2,200 people in its U.S., Mexico and India facilities. For more information, visit http://www.datamark.net. Follow industry news and trends at DATAMARK's Outsourcing Insights blog at http://www.datamark.net/blog.