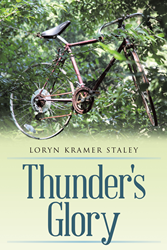 "More than 123,000 men, women, and children are on the waiting list for organs, eyes, and tissue," Staley said. "The gift of life is so important."
SANTA FE, N.M. (PRWEB) April 06, 2016
Cory Horton, a swim coach, was not the average guy. He was an extraordinary person who had a profound influence on his team and in his community. Horton was unwavering in his commitment to make "his kids" better for themselves, and not for his glory as their coach. He was generous with his time and passion, developing the young swimmers in his charge into an elite team. Horton was generous in death, too – after a tragic accident, he donated his organs, bettering the lives of four strangers.
Loryn Kramer Staley knew Horton well – her daughters were part of his swim team. Upon Horton's passing, Staley understood better than most the importance of his final gift – she was a transplant recipient herself earlier in her life. Her appreciation for his generosity manifested itself in "Thunder's Glory," her new book about Horton's life.
"Cory had a joy for life and living – he inspired others to be their best," Staley said. "He touched the lives of so many people, so I wrote 'Thunder's Glory' in hopes of encouraging others to live life in the same way."
Staley has used her own transplant experience, as well as Horton's story, as a platform to raise awareness for causes such as Donate Life and Share the Road. She will be recognized at the 2016 Transplant Games in Cleveland, Ohio.
"More than 123,000 men, women, and children are on the waiting list for organs, eyes, and tissue," Staley said. "The gift of life is so important."
For more information, visit http://www.lorynkramerstaley.com/.
Thunder's Glory
By Loryn Kramer Staley
ISBN: 978-1-48082-181-1
Available in softcover, hardcover, e-book
Available on Amazon, Barnes & Noble and Archway Publishing
About the author
Loryn Kramer Staley is a native Nebraskan and former resident of Memphis, Tennessee, who now resides in Santa Fe, New Mexico, with her husband.
**FOR IMMEDIATE RELEASE**
For review copies or interview requests, contact:
Drew Tharp
317.602.7137
dtharp(at)bohlsengroup(dot)com