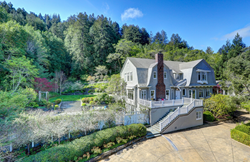 "I am honored to feature this estate in my portfolio of real estate properties for sale in Marin County and to work with Phil Lesh." CJ Spielman, Realtor
San Francisco, california (PRWEB) April 08, 2016
Conrad Muessdorffer was a renowned San Francisco architect in the late 1800's, responsible for many of the residential masterpieces in Pacific Heights. He also designed the St. Regis apartments in Lafayette Park, the only private residence in San Francisco located in a public park. That luxurious Beaux‐Arts building established him as the architect of choice for San Francisco's one percent of that era. For his own home, Meussdorffer migrated north to idyllic Ross, where he designed a handful of homes for his favorite clients. Today, the only Meussdorffer‐ designed residence that remains in Ross is the lovely, iconic home at 68 Bridge Road. The Bridge House retains much of the vintage architecture originally envisioned by the house's celebrated architect, with wainscoting, box‐beam ceilings, a kaleidoscope of gorgeous windows, and some original flooring.
The house is listed by Paragon Realtor, CJ Spielman, rated among the top 3% of all real estate agents in Marin, a member of the Top Agent Network and The Marin Platinum Group. CJ Spielman embodies the words of Steve Jobs: "The only way to do great work is to love what you do." A resident of the San Francisco Bay Area since 1976, (although she admits that she will never lose her NYC spark) CJ is an active member of the community in which she lives and works. She utilizes her love for negotiation and bringing people together as a trained conflict mediator and long term care volunteer ombudsman. CJ is always happy to share her knowledge and love for Marin County.
About Paragon - Paragon is a locally owned and managed real estate company in the Bay Area that conducts business across all market segments – residential and luxury home sales, investment and commercial property sales and leasing, new home sales and rentals. We have built our success on preparing for and ensuring yours.
Paragon Real Estate Group – Marin – paragon-re.com – 415-805-2900
San Francisco – Marin – Contra Costa