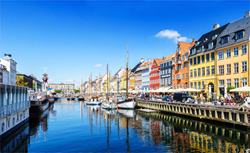 This year Europe is alive with exciting events, anniversaries and new openings making it the place to go in 2016.
ANAHEIM, Calif. (PRWEB) April 04, 2016
Dramatic scenes in Scandinavia, natural wonders in Iceland and the passionate culture in Spain are some of the top summer destinations featured for Trafalgar's Buy One, Get One 30 Percent Off Second Guest Spring Travel Sale for two weeks only through April 17.* Seize the moments and secure a seat on a perfectly-planned vacation.
A treasure trove of historical landmarks, iconic sights and ever-changing landscapes, it is little wonder that Trafalgar's guided vacations are selling fast. This year Europe is alive with exciting events, anniversaries and new openings making it the place to go in 2016.
Top Five Reasons to Visit Europe:
1. Find a happy place in 2016's World's Happiest Country, Denmark
The UN's 2016 World Happiness Report has named this tiny Scandinavian nation the world's happiest country. The refreshing sea air, the egalitarian spirit and delicious pastries gives Denmark just the right balance. Meet the friendly locals on 14-day Scenic Scandinavia and its Fjords with stops in Copenhagen, Norway and Sweden. $3,775 Original Price Per Person, $1,132 Total BOGO Savings*
2. Visit 2016's bucket list destination, Iceland
This year Iceland is being tipped by industry experts as a top destination for 2016. Chosen by staff at National Geographic as one of their bucket list destinations, Iceland is icy exoticism at its very best. As one of the filming locations for the latest Star Wars franchise, Iceland is other-worldly. As summer approaches and the 'midnight sun' phenomenon appears, this country will be shining the spotlight on itself in the coming months. NEW Ultimate Iceland 10-day trip. $4,325 Original Price Per Person, $1,296 Total BOGO Savings*
3. Commemorate Ireland's history during the centennial year of the Easter Rising
An official program of events marks the 100 years since the historical Easter Rising in 1916, and will be commemorated throughout Ireland this year. Dublin takes the number three spot on Lonely Planet's Top Ten Cities to Visit in 2016 and Ireland has plenty to shout about. Succumb to its charm on 7-day Irish Highlights. $1,525 Original Price Per Person, $456 Total BOGO Savings*
4. Visit the European Capital of Culture of 2016, San Sebastian
San Sebastian, Spain shares the title of European Capital of Culture with Wroclaw in Poland, and will see more than 400 cultural activities take place this year to celebrate this prestigious accolade. Its cultural scene will be thriving with activity like never before and combined with its array of Michelin-starred restaurants and renowned mini tapas pintxos scene, travelers can savor a sophisticated slice of Spain. Check out this 15-day Best of Spain. $3,050 Original Price Per Person, $914 Total BOGO Savings*
5. Delve into the history books at the new Berlin Wall Museum
Germany's past makes it one of Europe's most fascinating countries where people spend hours hopping from museum to memorial. Another iconic historical occasion will be added to Berlin's long list with the opening of The Wall Museum this year. A reminder of the decades of division that existed between East and West Germany during the Cold War, this new opening comes 55 years since the wall's construction. This 15-day Bohemian Highlights takes an undercover look at the wartime history of Poland and Germany before exploring Prague and Budapest. $3,075 Original Price Per Person, $922 Total BOGO Savings*
These handpicked vacations include all the essentials, from specially-selected four-star hotels, many local meals, VIP access to skip the long lines at major sights, and an expert professional Travel Director who speaks the local language provides concierge-style service the entire trip.
To book a vacation, talk to Trafalgar's Travel Experts at 866-544-4434, contact a Travel Professional or visit http://www.trafalgar.com/bogo30.
About Trafalgar
With almost 70 years of expertise, every Trafalgar trip is infused with the best moments like exclusive Insider Experiences, VIP treatment and relaxing free time. Committed to doing everything to give guests the best vacation, that means they are guaranteed the best memories. Trafalgar is a member of the family-owned The Travel Corporation (TTC), renowned and trusted for its outstanding quality, service, value, reliability and financial stability. Join the conversation at: Trafalgar.com, Facebook.com/TrafalgarTravel, Twitter.com/TrafalgarUSA, Instagram.com/TrafalgarTravel.
About The TreadRight Foundation
Trafalgar is a proud supporter of the TreadRight Foundation. Created as a joint initiative between TTC's family of brands, the TreadRight Foundation is a not-for-profit working to ensure the environment and communities we visit remain vibrant for generations to come. To date, TreadRight has helped support more than 35 sustainable tourism projects worldwide. The foundation's guiding principle is to encourage sustainable tourism development through conservation, leadership and support for communities.
TreadRight's past project partners include World Wildlife Fund, Conservation International and The National Trust in the UK. Current initiatives include sponsoring the National Geographic Society's inaugural "World Legacy Awards," helping to combat wildlife crime with WildAid, and empowering individuals with the Alliance for Artisan Enterprise.
To learn more about our past and current work at TreadRight, please visit us at treadright.org.
###
Terms & Conditions: *Featured prices are per person, land only, based on double occupancy, subject to availability and may be withdrawn at any time. Valid for new bookings on select 2016 departures featured above when booked between 04/04/16 and 04/17/16 and paid in full at time of booking. The 30% second guest discount is based on a 15% per person discount applied to both guests on the booking; 15% savings are available for single travelers and odd-numbered travelers in a booking. Savings valid off the land portion (does not apply to extra nights' accommodations, Optional Experiences or extensions, airfares, flight supplements and surcharges, taxes and fees, airport transfers and any cruise portion of a vacation), not valid on all itineraries and/or departure dates, subject to availability and may be withdrawn at any time without notice. Savings combinable with show coupons, select promotional offers (except Last Minute Deals) and brochure discounts (except Early Payment Discounts). Other conditions may apply. CST#2077132-20