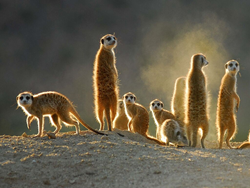 Our aim is to showcase the lesser-known corners of Africa and assist you in getting there
Cape Town, South Africa (PRWEB) April 06, 2016
Passage to Africa debuts a compelling digital campaign, "15 Seconds in Africa," to offer viewers a glimpse of what it's like to venture through the bush alongside this vast continents most exclusive safari-guide company.
With this series of wildlife videos, Passage to Africa captures the essence and importance of bush life, conservation and exploration. The starting line-up features a variety of exotic animals in their natural habitat including elephants, wildebeests and chimpanzees. From socializing with meerkats in the Botswana to witnessing the migration of more than 10 million fruit bats in Zambia, each of these videos represent destinations that can be, and have been, experienced on expeditions with Passage to Africa.
"Whether your dream is navigating the watery wonderland of the Okavango Delta in a mekoro, visiting remote tribes in Ethiopia, tracking gorillas in Bwindi's Impenetrable Forest or being entranced by the great Serengeti migration, our aim is to showcase the lesser-known corners of Africa and assist you in getting there," said Michael Lorentz.
Michael Lorentz, one of Travel+Leisure's A-list travel experts and CEO of Passage to Africa, will add his lens and treks to this campaign, which will enhance the safari leader's assortment of mixed media content aimed at promoting wildlife, conservation and travel.
Safari Specialists with Passage to Africa are inspired to share authentic footage and tempt bucket-lists with these wildlife encounters and unique destinations. Explore the collection on Passage To Africa's YouTube channel as well as Twitter, Facebook, and Instagram under the hashtag #15secondsinAfrica.
ABOUT PASSAGE TO AFRICA
Passage to Africa is a premier safari company featuring Africa's most respected safari specialists. The company was founded in 2000, by the Travel + Leisure A-List travel expert Michael Lorentz. Passage to Africa safari guides have a wealth of knowledge that can only come from being Africa born and having a wide experience of travel throughout Africa. Journeys are custom-planned for each guest. Passage guides have access to secret places, exclusive experiences, and the legends of Africa.
For more information contact Passage to Africa, at +1 855 451 1689 or +27 15 793 0811; or visit the website at http://www.passagetoafrica.com
Social Media Saavy? Follow Passage to Africa on Facebook, Twitter, and, Instagram.