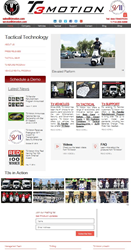 The new T3 Motion website is a reflection of our expertise for bringing innovative and revolutionary tactical products to our customers worldwide
Brea, CA (PRWEB) April 05, 2016
T3 Motion, Inc. (OTC: TTTM), the global leader in the design and delivery of electric vehicles and tactical technology to the law enforcement, military, and security markets, announced the newest version of their company website, http://www.t3motion.com.
The new t3motion.com highlights the new range of T3 Motion tactical technology products, including:
●T3 Patroller Electric Stand-up Vehicle (available in Full Suspension, Front Suspension, and Rigid Chassis models)
●T3 Vision Electric Stand-up Vehicle (a smaller-width electric patrol vehicle designed for interior use)
●T3 TG-3 I.E.D. Explosion Containment Device
●T3 TG-5 Tactical Breach Energy Transfer Medium
●T3 TG-7 Ballistic Vest Impact Reduction Inserts
●T3 ALPR (portable, self-powered License Plate Recognition system)
●T3 P-60 Tactical Camera
●T3 PD-77 Body Camera
T3motion.com also features a brand new Company Store, product videos, media coverage, contact information, and a company overview.
"T3 Motion is very proud to unveil our latest website," said Noel Cherowbrier, T3 Motion, Inc. C.E.O. "The new t3motion.com is truly a reflection of our expertise for bringing innovative and revolutionary tactical products to our customers around the world. It's also a fantastic way to celebrate T3 Motion's tenth year in the market and our role as the leader in tactical technology for the law enforcement, military, and security sectors."
About T3 Motion, Inc.:
T3 Motion, Inc. (OTC: TTTM) was founded in 2006 in Costa Mesa, CA and has become the global leader in clean energy, all-electric patrol vehicles for the Law Enforcement, Military, and Security markets. T3 Motion's revolutionary patented T3 Patroller was the first electric multi-shift vehicle designed for professional applications with interchangeable batteries. Deployed at airports, military facilities, retail centers, campuses, business districts, and other high-profile locations, the T3 Patroller has quickly become the choice of public safety agencies around the world. T3 Motion, Inc. now also offers customers the T3 Vision, a smaller all-electric patrol vehicle with interchangeable batteries ideal for interior patrols. For more information, visit http://www.t3motion.com, email sales(at)t3motion(dot)com, or call (714) 255-0200.
"Safe Harbor" Statement under the Private Securities Litigation Reform Act of 1995: Statements in this press release regarding T3 Motion's business, which are not historical facts, are "forward-looking statements" that are not guarantees of future performance. Such forward-looking statements are subject to risks and uncertainties that may cause actual results to differ materially from those anticipated by the forward-looking statements. These risks and uncertainties include, among others, factors associated with market conditions and the satisfaction of customary closing conditions related to the proposed public offering. For additional information concerning these and other factors that may cause actual results to differ from those contained in the forward-looking statements, see "Risk Factors" in the Company's Registration Statement filed on Form S-1, as amended, and in periodic reports the Company files from time to time with the Securities and Exchange Commission.