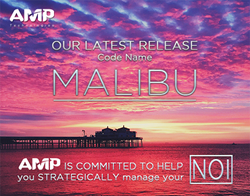 You can't get this level of innovation anywhere else in the industry.
Silicon Valley, CA (PRWEB) April 05, 2016
Today, AMP Technologies announces The Malibu Release, bringing Users a new generation of usability and insights to make performance easier to manage. AMP is known for their continuous innovation in all of their products with the focus on seamlessly bringing together disparate information at your fingertips and all in real time. With the newly released updates, along with the Ubermanger updates, AMP has enhanced every Users capability to strategically and tactically manage NOI like never before.
"We are highly focused on User productivity. AMP delivers next generation solutions that provide a competitive advantage through the most easy to use platform in the marketplace. We do all the work so you don't have to. Our Users should be able to quickly access the key metrics they need to accelerate in their area of expertise; AMP provides this with a click of a button. You can't get this level of innovation anywhere else in the industry," shares Hari Madhavan, Head of Client Experience – AMP Technologies.
EXPERIENCE THE MALIBU RELEASE TODAY -- CLICK HERE
Highlights:
•Clear and concise reporting: With enhanced graphs and charts weekly and monthly reporting has become more concise. All Users will be able to easily download reporting such as property details, financial, and leasing performance with a single click.
•Sensitivity Analysis: You can now view investment growth, asset growth, property values and easily view the relationship between all three values – all in real time. We have eliminated the need for dual entries to see this key information. AMP updates on a continuous basis.
•Easily view key data: Now you can view monthly reports with a click of a button. AMP has also implemented weekly email snapshots so Users can see an overview of their assets performance on a weekly basis without even having to login.
•Additional asset types: Enhanced financial data has been implemented for multifamily, single family and student housing sectors. Now you can combine different sectors into a single performance analysis report and combine chart of accounts into a consolidated view.
•Complicated debt structures: Now Clients can incorporate their debt structures into cash flows with utmost flexibility. AMP is displaying complicated debt structures into a simple to view format with alters on key trigger points and risk analysis. You can now model different debt scenarios to enhance NOI.
•Immediate notifications at your fingertips: Not only will you have all of your data in the palm of your hand, but also you will be updated immediately with the new push notifications for the Ubermanager App.
•Enhanced look and feel: The AMP platform has been enhanced with a new look and feel that continues driving absolute excellence. Now Users can also view properties in a completely new way than ever before and experience our new interactive graphs providing a huge competitive advantage.
ABOUT AMP TECHNOLOGIES -- CLICK HERE
Headquartered in Mountain View, California, AMP Technologies provides a suite of products and services for commercial real estate asset management. The AMP Technologies Platform is a powerful, yet highly intuitive platform to monitor and manage individual properties and large portfolios. Its products are built on best-of- breed cloud technology and are designed for the modern enterprise to provide sophisticated business intelligence, collaboration and management tools. With a comprehensive, yet highly intuitive, platform for monitoring and managing individual properties to entire portfolios, AMP provides the key tools needed for every level of management for effective analysis and decision-making.