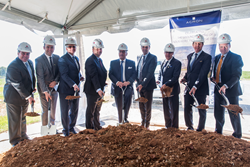 "We've assembled a team of the most talented and admired leaders in their respective industries to create Solis Hotel Two Porsche Drive, a world-class hotel that will be unmatched in the Atlanta market," said Klaus Bender, Chairman ACRON Group.
Atlanta, GA (PRWEB) April 06, 2016
Swiss real estate investment company ACRON hosted a ceremony today to commemorate the groundbreaking of Solis Hotel Two Porsche Drive in Hapeville. Bruce Bradley's Castleton Holdings and Scott Condra's Condra Group will oversee the development of the hotel, which will be managed by Capella Hotel Group. Bank of Ozarks provided financing.
Solis Hotel Two Porsche Drive, which will open in late summer 2017, will offer the following:

214 guest rooms, including a 1,400-square-foot presidential suite
6,500 square feet of event space, including a 3,600-square-foot ballroom
Rooftop terrace overlooking the 27.7-acre Porsche Experience Center
Restaurant
Bar
Café selling coffee and house-baked breads and pastries
Pool and fitness center
Specialty retail shop
ACRON is investing an estimated $52 million in the four-star hotel's development. The investment was structured by a Swiss stock corporation, ACRON 2 Porsche Drive AG.
"We've assembled a team of the most talented and admired leaders in their respective industries to create Solis Hotel Two Porsche Drive, a world-class hotel that will be unmatched in the Atlanta market," said Klaus Bender, Chairman ACRON Group. "The hotel will represent the understated elegance and sophistication for which Porsche is known throughout the world."
Solis Hotel Two Porsche Drive is located on the site of the former Ford factory, which operated from 1947 to 2006 and is now the home of the Porsche Experience Center and North American Headquarters. The hotel will be the first new hotel on the east side of Hartsfield-Jackson International Airport since the new international terminal opened.
"The City and the Hapeville Development Authority have worked diligently with Castleton Holding, LLC; Condra Group LLC; and ACRON, and we are proud to be a part of this first-rate project team," said City of Hapeville Mayor Alan Hallman. "As we embark on 2016, Hapeville's Commemorative 125th year, the timing of this groundbreaking marks a significant milestone for Hapeville, symbolizing many new possibilities on the horizon."
Solis Hotel Two Porsche Drive will have a direct impact on Hapeville, strengthening the tax base, supporting the revitalization of the City, and bringing new and skilled jobs for the citizens of the City, the burgeoning Aerotropolis district, and south metro Atlanta. The hotel will be a catalyst for additional investment in Hapeville, making the area more attractive to international corporations and other organizations that can benefit from proximity to the world's busiest airport.
"We look forward to bringing Capella Hotel Group's high standards of excellence to Solis Hotel Two Porsche Drive's discerning customers from around the world," said Horst Schulze, Chairman and CEO, Capella Hotel Group. "Every detail of the hotel – from the meticulous design, flawless service, and exceptional amenities – exemplifies the Porsche's brand's signature level of luxury and creates memorable experiences for customers."
HOK designed Solis Hotel Two Porsche Drive to complement the adjacent Porsche Cars North America's headquarters, which HOK also designed. Peter Silling & Associates designed the hotel's interiors, taking cues from the premium automobile brand to create a sleek environment. Winter Construction is the design-builder.
"HOK designed Solis Hotel Two Porsche Drive to reflect the bold and progressive design we created with the Porsche North American Headquarters and Experience Center," said HOK's Todd Bertsch. "We wove in subtle motor-sport-related elements into the hotel's timeless design to further encapsulate the essence of the Porsche brand."
About ACRON
ACRON is a management company specializing in real estate investments founded in Düsseldorf, Germany, in 1981. Every real estate investment designed by ACRON is based on a single-asset structure for investments in Switzerland, Austria, Germany, or the United States. Hotel properties are a focal point, making up 40% of the ACRON Group's current investments. The company's transaction volume as of December 31, 2015 amounted to CHF 1,064 million. ACRON's clients are private individuals and families from around the world. The ACRON Group is headquartered in Zurich, Switzerland, with subsidiaries in Luxembourg (Luxembourg), Düsseldorf (Germany), Dallas (USA), and Rio de Janeiro (Brazil). http://www.acron.ch, http://www.acronusa.com
ABOUT SOLÍS® HOTELS & RESORTS
Carefully crafted to appeal to discerning, well-traveled guests, the Solís Hotels & Resorts brand is an exclusive collection of resorts, hotels and residences offering a convergence of unparalleled designs, settings and experiences. Each Solís property presents luxury accommodations with a true sense of discovery and is designed to showcase the distinctive character of its environment with a global palette of cosmopolitan comfort, inspiring cuisine, world-class spas and spirited activities that explore its distinct surroundings, all enhanced by the highest level international service quality standards. Solís Hotels & Resorts has corporate offices in Singapore and the United States; http://www.solishotels.com.
ABOUT CASTLETON HOLDINGS, LLC
Castleton Holdings LLC (Castleton) is a privately held real estate investment company that engages in the acquisition and development of investment grade real estate. Founded by Bruce Bradley in 1993, Castleton has consummated twenty-one transactions in various asset types, representing over 1.2 million square feet. Castleton developed and owns Capella Georgetown.
ABOUT CONDRA GROUP, LLC
Scott Condra recently formed Atlanta-based Condra Group to continue developing mixed-use commercial real estate. Scott was previously President of Jacoby Development, Inc. where he played a leadership role in some of the Atlanta region's most significant redevelopments of the past several decades, including Atlantic Station in Midtown Atlanta and Aerotroplis Atlanta – home to Porsche's North American headquarters. He is also the 2016 Chairman of the Board of Directors for the Council for Quality Growth.