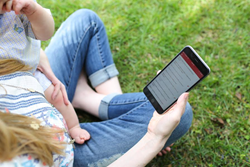 "Stories are shared privately between customer and their families, allowing them to feel comfortable sharing memories, prompt meaningful conversations and deepen family connections.
San Francisco, CA (PRWEB) April 05, 2016
StoryWorth (http://www.storyworth.com), an online service which makes it easy to collect and privately share family stories across generations, launches the new StoryWorth iOS app today for iPhone and iPad, available for download at http://bit.ly/227ZmxE.
After a free 30-day trial, a year of StoryWorth starts at $39 USD, and hardbound books of stories gathered start at $34. Any stories written during your free trial are yours to keep. Through the stories of your grandparents' first kiss, your mother's favorite childhood prank, or your uncle's best cooking advice, StoryWorth is a way to connect to loved ones in new and unexpected ways.
PHOTOS/SCREENSHOTS for press use are available here: http://bit.ly/1UqnpJp.
Each week, StoryWorth sends a question you'd never have thought to ask to a relative of your choosing, either through email or the app. They respond with a story, which they can either write or record using the StoryWorth app, and that is sent to you and selected family members.
StoryWorth's collection of over 500 questions has now prompted over 80,000 stories from families around the world. Customers have called it a "great way to stay in touch with their families, bridging geographic distances," and a tool to "elicit entertaining, surprising, and sometimes moving responses." Stories are shared privately between customer and their families, allowing them to feel comfortable sharing every memory - including tales of childhood misadventures, pranks in the military, and even parenting advice.
Stories can be illustrated with photos, and are saved both online and in the app. They are also easy to print in a beautiful keepsake book, which can be handed down as an heirloom or given as a meaningful gift for Mother's Day, birthdays, and more.
Co-founder and CEO Nick Baum commented, "We've heard from customers that they're using these stories to initiate new conversations. So every time they get a story back from their mom or dad, the stories prompt meaningful conversations. By keeping StoryWorth's technology as simple and accessible as possible, we want to make it easy for everybody to deepen those family connections."
About StoryWorth
StoryWorth brings the family together across generations by sharing weekly stories from your loved ones. Insightful questions like "What's the bravest thing you've ever seen?" or "Have you ever pulled a great prank?" prompt unexpected stories that help members connect with relatives on a new level. Stories are private, shared only with designated family members, and can be saved digitally or collected into a hardcover book. Over 80,000 stories have been shared to date, even by customers over 100 years old. StoryWorth was founded in 2012 by former Google executive Nick Baum and his wife Krista to capture their own parents' stories, and is now bringing families closer together all around the world. Sign up for a free trial at storyworth.com, download the new Storyworth app http://bit.ly/227ZmxE and follow @StoryWorth on Twitter for news and developments.
###
StoryWorth media contact:
Alison Minaglia
alison(at)storyworth(dot)com
(917) 902-3404