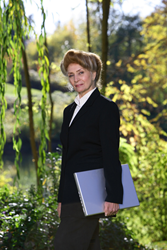 Grants Pass, OR (PRWEB) April 05, 2016
April is the time of year when summer hiking enthusiasts in Oregon and California grow restless after six months of patiently waiting for the heavy blanket of high mountain winter snow to melt off and let them back in. The only year on record with no heavy winter snow (or even light winter snow), according to water advocate and radio host Sharon Kleyne, was the winter of 2014-2015.
Having the high mountain trails open all winter a year ago was interesting and instructive, Kleyne reports. However, most hikers never wish to repeat the experience. As the winter of 2015-16 approached, hikers held their breath to see whether or not the drought would continue.
Sharon Kleyne will discuss the 2016 hiking season, the winter drought of 2014-2015 and Cascade Mountains snowpack levels in Oregon and California on her Sharon Kleyne Hour™ Power of Water® radio show of April 11, 2016. The globally syndicated, education oriented show is heard weekly on VoiceAmerica (Health and Wellness, and Variety Channels) and Apple iTunes. For podcasts of past shows, go to http://www.voiceamerica.com/show/2207/the-sharon-kleyne-hour
"Sharon Kleyne Hour® Power of Water®" is sponsored by Bio-Logic Aqua® Research Water Life Science®, founded by Kleyne and specializing in fresh water, the atmosphere, body surface evaporation, dehydration and education. The Research Center's signature consumer product is Nature's Tears® EyeMist® for dry eye.
The news, it turns out, is wonderful, with snowfall in the Southern Cascade Mountains running 120 of normal. Hikers are happily waiting for the high trails to open at their normal time of late May to early June (In 1998-1999, the snowiest winter ever recorded, high mountain trails did not open until late July or early August).
In January 2015, a friend of Kleyne's hiked 5 miles from the Lover's Camp Trailhead to the Marble Valley in Northern California's Marble Mountain Wilderness, encountering only small, widely scattered patches of snow at the upper end. In a normal January, there would be at least 5 feet of snow at the trailhead and 10 to 15 feet at Marble Valley and Marble Rim, one of Northern California's most scenic locations. For the many area hikers who always wondered what the Marble Valley and other locales looked like in winter but were reluctant to hike for miles on snowshoes over completely buried trails, 2014-2015 offered a once-in-a-lifetime opportunity.
As of April 3, 2016, says Kleyne, snow depth at Southern Oregon's Mt, Ashland Ski Area was 137 inches at the summit (a little over 11 feet), with total snowfall for the season at 271 inches. The area received 56 inches in December 2015; 63 inches in January 2016; 22 inches in February; 2016 and 27 inches in March 2016. This is in stark contrast to the 16 inches received in December 2014; 0 inches in January 2015; 30 inches in February 2015 and 0 inches in March 2015.
Like Mount Ashland, Kleyne notes, the road through Lassen Volcanic National Park is a bell-weather for seasonal. Lake Helen, just beyond the park's 8,300 foot highway summit, is considered the snowiest place in the entire state of California
In 2013, says Kleyne, the Lassen Summit road closed for the season due to snow December 13, the latest closing date listed (Note: Lassen's website lists road closing and opening dates only since 1980). The winter of 2013-2014 was indeed very dry but nothing like 2014-2015. In 2014, the road closed December 1, the second latest closing listed. The May 3 opening in 2015 is the earliest listed (Normal is mid to late June).
In December 2015, according to Kleyne, the Lassen Summit Road closed November 8, which is fairly early but not record breaking. The exact opening date for 2016 has yet to be determined but it will certainly be much later than May 3.
The best news, Kleyne reports, is that after two consecutive years of extreme drought in Southern Oregon and four in California, there is plenty of snow in the high country, the reservoirs are nearly full and drought stressed trees, meadows and springs are expected to fully heal and normalize.
©2016 Bio-Logic Aqua® Research Water Life Science®. All rights reserved.
Sources:
"Mount Ashland Historical Snow," On the Snow, April 4, 2016
http://www.onthesnow.com/oregon/mount-ashland/historical-snowfall.html
"Mountain Report," Mount Ashland Ski Area, April 4, 2016
http://www.mtashland.com/mountain-report/
"Spring Road Clearing," Lassen Volcanic National Park, 2016
https://www.nps.gov/lavo/planyourvisit/winter-road-closures-and-spring-clearing-update.htm