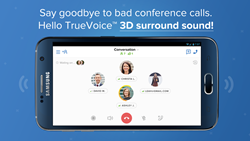 Voxeet has built the best audio optimization technology and is in a position to do very well in countries where bandwidth challenges are commonplace. We're very encouraged by the innovation we've seen on the product side" - Wayne Zhang, LDV Partners
San Francisco, CA (PRWEB) April 06, 2016
Voxeet, a leading communications innovator and pioneer of TrueVoiceTM 3D sound technology, today announced $1.5 million in additional funding led by LDV Partners, a cross-border VC firm, bringing its total funding to $3 million. WebEx Co-founder Susan Xu and LDV Partners joins existing investors Partech Ventures and Aquiti. The funding coincides with the international launch of the all-new Voxeet 4.0 across iOS, Android, and the Web.
Leveraging the company's breakthrough 3D TrueVoice surround sound, Voxeet 4.0 provides the richest audio available with powerful collaboration features that make it easy to share and organize information. Unlike traditional conference calling, Voxeet 4.0 connects users before, during and after a meeting through ongoing conversation channels. Users are able to chat in real-time, send voice memos, present files and share notes or call recordings.
"The world needs better communication. Every year we spend 200 billion minutes on conference calls, where poor sound quality, cross-talk, pixelated video, drop-outs, echos and interruptions are commonplace," said Stephane Giraudie, CEO, Voxeet. "Voxeet 4.0 marks the end to those problems with the best sound and user experience of any conferencing solution available. We are thrilled to add LDV Partners alongside our existing investors and look forward to leveraging their expertise in Asian markets."
According to Wainhouse Research, the Web and audio conferencing market is expected to reach $7.5 billion in 2016. Voxeet plans to use the funding to continue product innovation throughout the year: bringing crystal-clear audio and video together and expanding interoperability with popular work collaboration tools like Slack.
"Conference calling is a massive market opportunity in Asia," said Wayne Zhang, partner at LDV Partners. "Voxeet has built the best audio optimization technology and is in a position to do very well in countries like China, where bandwidth challenges are commonplace. We're very encouraged by the innovation we've seen so far on the product side and look forward to supporting the company to build out its outstanding services in China and Asia region."
"The mission of conference calling technology has always been to solve a huge problem that unfortunately still exists today." said Susan Xu, Co-founder of WebEx. "The industry is full of disparate solutions all solving different problems — audio, video, messaging, presenting, collaborating — and none of them are talking to each other. Voxeet 4.0 takes the best of all those things and puts them in one place."
About Voxeet
Founded in 2012 and built from the ground-up for mobile users, Voxeet is disrupting conferencing and collaboration for mobile workers and distributed teams. The company's proprietary TrueVoice, 3D surround sound technology and collaboration capabilities makes the anywhere conference room possible — giving distributed teams a competitive advantage for doing business. Voxeet's fast-growing user base spans 121 countries in industries including technology, advertising, financial services, legal and healthcare. The company has won multiple awards including the DEMO God award at DEMO 2012. Led by seasoned business technology veterans with expertise in web communications, collaboration, social networking and telecommunications, Voxeet is headquartered in the San Francisco Bay Area with offices across the globe in Silicon Valley and Bordeaux, France. Voxeet is available on the Web, iOS, Android, Mac and Window devices. For more information, visit Voxeet on the web at http://www.voxeet.com or on twitter at @Voxeet.