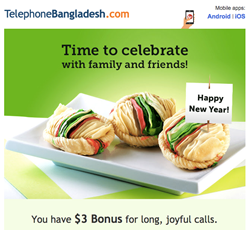 "Awesome service." (Zahid Iqbal)
Atlanta, Georgia (PRWEB) April 06, 2016
Bengali expats worldwide are invited to get their Bengali New Year gift: $3 Bonus for international calls to Bangladesh on TelephoneBangladesh.com. The condition to get the 103 free minutes to call landlines and mobiles in Bangladesh is to order a minimum of $20 Voice Credit until April 9th, 2016. The process takes less than 1 minute and can be carried out using KeepCalling app for iOS and Android, or the mobile-friendly website: http://telephonebangladesh.com/buy/voice
To get the $3 Bonus one needs to use coupon HAPPY3AR for a minimum order of $20 on TelephoneBangladesh.com. A minimum $20 Voice Credit order is required to get the Bonus, that is added to the account balance instantly.
The 103 free minutes never expire, and can be used to call Bangladesh mobiles and landlines, as well as other destinations in the world. This promotion was designed to support communication between expats and their families in Bangladesh during and after the Poila Boishakh celebration.
The promotion is open to all people who have an account on TelephoneBangladesh.com, both existing and new customers. For new customers registration on the website costs nothing, and it comes with several benefits: free features, Thank You points, transaction and call history, balance details, etc. It takes less than 1 minute to open an account and also subscribe to "Get Offers" by email.
For those wondering how to call Bangladesh using the latest and most affordable technology, TelephoneBanglades.com makes available 3 different ways to call with Voice Credit:
-KeepCalling app for Android or iOS is easy to install and works best on WiFi.
-One can call from a PC to any phone in Bangladesh using the Web Call app that is available in one's online account on the website; it requires no download, but it needs a new Java version to run well.
-Access Numbers help customers make calls without Internet access using a landline, a payphone, or a mobile; the appropriate access number is the number in one's area, available in the following list: http://telephonebangladesh.com/access_numbers_voice
TelephoneBangladesh.com, which is a service dedicated to Bengali communities abroad, features really competitive rates on the global market: 2.9 ¢/minute unique price for mobiles and landlines. Voice Credit is basically calling credit for international calls and SMS to Bangladesh.
Yet, the lowest rate to call Bangladesh is 1.9 ¢/minute, available with the monthly plans on TelephoneBangladesh.com. "Bangladesh 500" includes 500 international calling minutes to Bangladesh landlines and mobiles for a monthly rate of $9.49. For more talkative bengali, there is another monthly plan that includes 1000 minutes to mobiles and landlines: "Bangladesh 1000." Its price is $18.99 a month, and can be cancelled any time without any penalties or extra fees.
TelephoneBangladesh.com is known for its flexibility and for having no hidden fees. Voice Credit can be added to the monthly plan if more minutes are needed. Plus, monthly plans can be cancelled or upgraded or downgraded without any penalty.
Payment methods are also flexible. One can use PayPal or any major card displayed in the footer of the website. The service is also rewarding. One gets Thank You points as loyalty points on every purchase or each time someone uses their referral code when placing an order on TelephoneBangladesh.com. These points can be converted into Voice Credit whenever they reach 1000.
Besides the calling service, TelephoneBangladesh.com hosts a service that facilitates 1 minute mobile credit transfers from country to country. It is called Mobile Recharge and can be used to send mobile credit online to any prepaid mobile phone in Bangladesh: Grameenphone, Banglalink, Robi, Airtel Bangladesh, TeleTalk and Citycell.
TelephoneBangladesh.com is an interactive website designed by KeepCalling, a global telecommunications company registered in 2002 in USA. Presently, KeepCalling provides its services to hundreds of thousands of consumers and businesses, with a focus on customer satisfaction. KeepCalling has been listed by Inc 5000 as one of the fastest growing companies in the USA for 5 consecutive years. In 2015 the company registered a revenue increase of over 200% from 2011 to 2014.