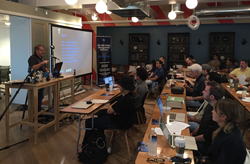 These workshops are an opportunity to go through the entire end-to-end workflow at an individual level.
Boston, MA (PRWEB) April 06, 2016
360Heros announced it will be hosting a series of 360 video content creation workshops.
The first of these educational sessions will take place on April 9 in the Kennebunkport conference room located in Oficio's space at 129 Newbury Street in Boston, MA.
The course will focus on shooting techniques for 360 video, media management and an overview of the stitching and post production process for creating seamless spherical content.
Attendees will walk away with an understanding of the techniques and tools necessary to create cinematic virtual reality content playable on leading HMDs such as the Oculus Rift, Samsung Gear VR and HTC Vive.
The workshop will primarily focus on set-up and VR shooting with an overview of the stitching process. The class will level student's understanding of the basics and dive further into video capture through an introduction to various monoscopic and stereoscopic set-ups. This includes providing detailed information on which rig to use for various shooting scenarios and mounting techniques for creating seamless 360-degree content.
"These workshops are an opportunity to go through the entire end-to-end workflow at an individual level," said Michael Kintner, 360Heros CEO and founder. "Rather than learning bits and pieces, it's better to see how all of the steps relate to one another to produce a quality 360 video."
Classes will be taught by Matt Sheils, who leads the 360Heros production team which has completed projects for Disney, TIME Magazine, and FOX among other clients.
Complete course description and syllabus: https://www.eventbrite.com/e/360heros-360-video-workshop-in-boston-tickets-24304190488
About 360Heros:
360Heros Inc., a company specializing in virtual reality 360 video technology, creates camera systems that capture 12K resolution spherical VR content. 360Heros also develops 360 video workflow solutions such as 360CamMan™, the world's first VR media management software. Through years of research and innovation, 360Heros is empowering content creators to push the limits of this emerging technology and our ability to create immersive content. 360Heros, Inc. is not an affiliate of GOPRO® or Woodman Labs, Inc. 360Heros is a very proud user of GOPRO® cameras.