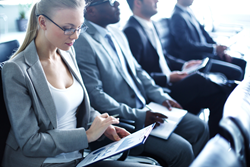 "The CX@Rutgers certificate program provides critical skills to individuals who don't necessarily have a customer experience background or technical knowledge."
New Brunswick, New Jersey (PRWEB) April 06, 2016
The Rutgers Center for Innovation Education is launching a unique Customer Experience Certificate Program "CX@Rutgers", beginning April 25th, 2016. This accelerated noncredit certificate is a 4-day or 8-evening immersion program where participants will learn to apply principles and techniques that drive Customer Experience innovation.
Graduates of the CX@Rutgers Certificate will:

Benefit from an interdisciplinary approach – the curriculum is designed to engage teams to work together to solve problems from across different disciplines
Experience hands-on learning – the CX@Rutgers faculty leads participants to solve real-world problems and use practices developed by top companies
Gain practical, job-ready skills and knowledge that allows participants to manage teams to learn how to gain customer insights and turn ideas into action
Leave with a professional CX Portfolio from their capstone project, in which students apply the learnings of the program towards a real world problem
The CX@Rutgers Certificate program places students in small teams to solve real world problems with experienced subject matter experts helping to guide them along the way. The only program of its type in the country, the certificate consists of 8 modules specifically designed to meet the increasing demand for skilled customer experience professionals in the United States.
"Utilizing Rutgers' proven professional learning approach, the Rutgers certificate program provides critical skills to individuals who don't necessarily have a customer experience background or technical knowledge," said Stephen Carter, Director of the Center for Innovation Education at Rutgers University. "Students acquire authentic experience in as little as four days, regardless of their background or functional role."
One of the unique aspects of the university certificate program is the small class sizes and close mentoring provided to students by faculty members. Faculty members are chosen based on their ability to engage and inspire so that students can apply what they have learned back at their organizations. Students also receive a complimentary Samsung tablet loaded with course materials, which they keep after the program.
"We are excited to deliver this innovative program and believe it to be a valuable option for professionals who wish to expand their skill-set in the areas of customer experience. As firms create new Customer Experience divisions, the job market is expected to explode for CX Professionals over the next several years. We are responding to the growing demand for employees who can make sense of this new ecosystem in New Jersey and beyond", Carter said.
For more information about the CX@Rutgers certificate program, visit http://bit.ly/CXatRutgers. Online information sessions are taking place throughout April, as well as an on-campus information session on April 14th at 6pm. Individuals can register for the webinars at http://bit.ly/CXatRutgersWebinar and the on-campus information session at http://bit.ly/CXatRutgersInfoSession.