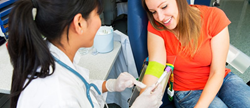 Our program is designed to prepare graduates with problem solving and quantitative reasoning skills as well as business process knowledge. Dr. Kimberly Rassau
Pittsburgh, PA (PRWEB) April 06, 2016
Career Training Academy (CTA) has announced that the Pennsylvania State Department of Education has approved plans to launch a new Phlebotomy program.
With courses beginning April 25, 2016, students who enroll in the Phlebotomy Technician diploma program will engage in a rigorous course schedule including four days each week for seven months and nine months for evening students.
The new program will be offered at each of CTA's three campus locations in Monroeville, North Hills and its new campus in Lower Burrell which will hold its Grand Opening on Friday, April 8, 2016.
Coursework is followed by 120 hours of practical experience in a required externship through which students combine classroom theory with career skills in a supervised work environment. Graduates are prepared to sit for certification through the NCCT (National Center for Competency Testing) NCPT exam.
The Phlebotomy program at CTA provides students the training needed to function as an entry-level phlebotomist in hospitals, blood donor sites, medical/diagnostic laboratories, physicians' offices, research or other health care settings.
"Phlebotomists perform functions such as blood drawing, specimen collection and processing, lab procedures, and administrative duties," said Kristy Graff, CTA lead faculty for the new program. According to Graff, the specialized skills of certified phlebotomists are in high demand.
U.S. Bureau of Labor Statistics suggests that employment of phlebotomists is projected to grow 25 percent through 2024, much faster than the average for all occupations. Earlier this year, the Bureau of Labor Statistics reported that 7.9 million Americans are unemployed, while at the same time 5.4 million jobs remain unfilled in America. This crisis exists because employers demand "job ready" employees and prospective employees are simply not able to bridge the skills gap without appropriate education and training. The Association of Private Sector Colleges and Universities took an in-depth look at the shortage of skills in the U.S. and discovered that the stats point to one of the fastest growing sectors of the American economy: health care. BLS projects health care and health care support occupations are projected to be the two fastest growing occupational between now and 2024, with a combined increase of 2.3 million in employment, representing about 1 in 4 new jobs.
"Many healthcare facilities today require an employee that possess both technical skills and have developed communication and interpersonal skills for front office work," said Dr. Kimberly Rassau, CTA President and CEO and Dean of Academic Affairs. "Our program is designed to prepare graduates with problem solving and quantitative reasoning skills as well as business process knowledge."
Competencies of the program include medical terminology, anatomy, physiology, laboratory and clinical assisting, clinical hematology, ventipuncture, administrative procedures, medical law and CPR and first aid. Career opportunities include positions such as Certified Phlebotomist, Phlebotomy Technician, Phlebotomist, Patient Services Representative, Patient Service Technician and Medical Lab Assistant.
About Career Training Academy
Founded in 1972, Career Training Academy offers professional career training and advancement in the medical, dental and massage therapy fields. Career Training Academy's main campus is located in Lower Burrell, PA with additional campuses in Monroeville and West View. The mission of Career Training Academy is to provide an educational environment that enhances learning and personal enrichment with unique and traditional methods, new techniques to learning, and a curriculum designed to meet career goals and industry needs. CTA maintains an active student community service program to foster character and self-esteem and is dedicated to the education and advancement of each individual's career goals. CTA is accredited by the Accrediting Commission of Career Schools and Colleges (ACCSC) and licensed by the State Board of Private Licensed Schools, Pennsylvania Department of Education.