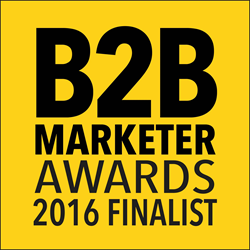 (PRWEB) April 06, 2016
BESLER Consulting announced today that it has been named as a Finalist for the Best Launch and Best Contribution to Sales Account-Based Marketing Categories in The B2B Marketer Awards. The Awards honor achievement in business-to-business (B2B) marketing by recognizing the organizations and individuals that produced the most impressive work of the previous calendar year, as evaluated by their peers. The Finalists serve as inspirational leaders within the B2B marketing community.
The Awards drew entries from a wide array of companies and marketing agencies representing a variety of industries and geographic locations throughout the U.S. "This being our inaugural year, we were astounded -- and elated -- by the reception we received, including the diversity of entrants, from startups and agencies to Fortune 500 companies," said Dawn Verbrigghe, the event's lead organizer.
"We're honored to be nominated alongside many of the best B2B marketers in the country," said Michael Passanante, Senior Director of Marketing at BESLER Consulting.
Finalists were selected by an independent peer panel of judges, with three finalists chosen in each of 14 categories. Each entry was evaluated for Originality, Polish, and Integration with the sales process or across marketing channels, and demonstrable Results.
The Awards will be presented at a gala on June 13, 2016 in New York City and are part of The B2B Marketer Conference & Awards event, registration for which is open to everyone in the B2B marketing community. For more information about the Finalists, including a list of team members for each, visit: http://b2bmarketer.net/awards
About BESLER Consulting
For over 25 years, BESLER has helped hospitals enhance and protect their Medicare revenue. BESLER's deep domain experience in revenue cycle, reimbursement, compliance and software development has resulted in more than $2 billion of additional revenue for our clients. For more information, visit http://www.besler.com.
About The B2B Marketer Awards
The B2B Marketer Awards are part of The B2B Marketer Awards & Conference, a peer-organized event that was created to celebrate, connect and inspire B2B marketers. The event brings together U.S.-based B2B professionals from across marketing disciplines — from marketing communications and demand generation to product marketing and strategy — for a day-long Conference and an evening Awards gala that acknowledges successful work from the previous year. The event will be held in New York City on June 13, 2016. For more information about the event and to register to attend, please visit: http://b2bmarketer.net.