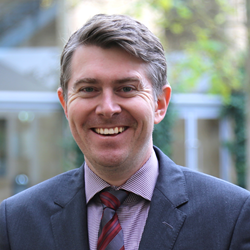 The cases we look at will be absolutely up-to-the-minute – we are researching and writing them now
Oxford, England (PRWEB UK) 6 April 2016
Marketing in the post-digital world
Saïd Business School launches the Oxford Strategic Marketing Programme
Saïd Business School, University of Oxford

It is a post-digital world: no more 'traditional marketing vs. digital marketing'
We can know what customers want before they know it themselves
And engage with them via a plethora of media and other touch points
Many marketing fundamentals need rethinking in this new environment
The first open executive education programme on marketing launched by Saïd Business School, University of Oxford, will focus on the challenges of marketing in today's post-digital world.
The Oxford Strategic Marketing Programme, to run for the first time in June 2016, is the first marketing programme to take a holistic view of the discipline, looking at cutting-edge research and practice in brands, customers, organisations and technology as the business world reaches what the programme director has called a 'tipping point in how organisations are thinking about marketing.'
'There is no such thing as "digital marketing" any more, just as there's no such thing as a "tech-savvy customer" – all marketing incorporates digital technology and all customers are connected,' said Andrew Stephen, L'Oréal Professor in Marketing at Oxford Saïd and Director of the programme. 'Other programmes in this area still concentrate on digital marketing as a discrete skill, and root their thinking in dated research. But Oxford will be looking at the very latest developments and challenging marketers to embrace these changes to create strategies with real impact.'
The 5-day programme will draw on the academic research being conducted by Oxford Saïd's marketing faculty as well as their work with organisations. It will focus on three major themes:
Customers
People are now always on and constantly connected; they are increasingly distracted due to the number of online and offline marketing channels to which they are exposed all the time; and they have increasingly high expectations of firms at all stages of the customer journey
Technology/Channels
Marketers can now interact with customers in many more ways; learn more about what customers think in real time; and know more about customers than ever before
Established Marketing Fundamentals
Any winning marketing strategy continues to have at its heart the fundamentals of a great product or service, a brand that resonates and connects with its intended audience, and a valuable customer base; the programme will explore how these assets should be protected and exploited in the changing marketing environment
The programme will be taught through a combination of interactive lectures, group work, and discussions of real cases with guest speakers. Throughout the week participants will create and present new marketing strategies for critique by the faculty and other participants in a series of workshops. Each participant will leave with a personal action plan that they can start to implement as soon as they return to the office.
'We're excited at the prospect of working with participants and discussing our latest research, which embraces critical insights from other fields such as psychology and data analytics,' said Professor Stephen. 'The cases we look at will be absolutely up-to-the-minute – we are researching and writing them now – and are sourced from all over the world. We hope that participants will take advantage of all the assembled experience and expertise to share their own real-life challenges and work with us and with each other to start the transformation of marketing in their organisations.'
More information about the programme can be found here.
To speak to Professor Andrew Stephen please contact the Press Office:
Josie Powell, Senior Press Officer, Saïd Business School
Mobile +44 (0)7711 387215; Tel: +44 (0) 1865 288403
Email: josie(dot)powell(at)sbs(dot)ox(dot)ac(dot)uk or pressoffice(at)sbs(dot)ox(dot)ac(dot)uk
Jonaid Jilani, Press Officer,
Mobile +44 (0)7860259996; Tel +44 (0)1865 614678
Email: jonaid(dot)jilani(at)sbs(dot)ox(dot)ac(dot)uk or pressoffice(at)sbs(dot)ox(dot)ac(dot)uk
1. About Saïd Business School
Saïd Business School at the University of Oxford blends the best of new and old. We are a vibrant and innovative business school, but yet deeply embedded in an 800 year old world-class university. We create programmes and ideas that have global impact. We educate people for successful business careers, and as a community seek to tackle world-scale problems. We deliver cutting-edge programmes and ground-breaking research that transform individuals, organisations, business practice, and society. We seek to be a world-class business school community, embedded in a world-class University, tackling world-scale problems.
In the Financial Times European Business School ranking (Dec 2015) Oxford Saïd is ranked 10th. It is ranked 10th worldwide in the FT's combined ranking of Executive Education programmes (May 2015) and 28th in the world in the FT ranking of MBA programmes (Jan 2016). The MBA is ranked 7th in Businessweek's full time MBA ranking outside the USA (Nov 2014) and is ranked 5th among the top non-US Business Schools by Forbes magazine (Sep 2013). The Executive MBA is ranked 2nd worldwide in the Economist's Executive MBA ranking (Sep 2015) and 9th worldwide in the FT's ranking of EMBAs (Oct 2015). The Oxford MSc in Financial Economics is ranked 14th in the world in the FT ranking of Masters in Finance programmes (Jun 2015). In the UK university league tables it is ranked first of all UK universities for undergraduate business and management in The Guardian (Jun 2015) and 2nd in The Times (Sept 2015). For more information, see http://www.sbs.ox.ac.uk/