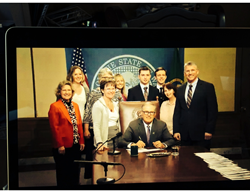 One second-grader told me the words were moving across the page as she was trying to read them.
Olympia, Washington (PRWEB) April 18, 2016
On April first, 2016, several years of activism for children's vision care took a giant leap forward as Governor Jay Inslee signed into law Senate Bill 6245, "A Bill Concerning Visual Screening in Schools."
"We are thrilled!" reported Helen Spencer, JD, lawyer and activist with the Yakama Nation and the Washington Center for Children and Youth Justice. "Many people throughout Washington – teachers, optometrists, lawyers, social workers, legislators, nurses and doctors – have been working for several years to make this happen."
Washington state has long had a law requiring screening schoolchildren for their ability to see at twenty feet away, using the Snellen or "Big E" chart used in many states. The new law adds a requirement for near vision, at reading distance
"Children do not read at twenty feet away," teacher and author Katie Johnson reminded legislators during testimony at the hearing for the Bill in January. In her book, Red Flags for Elementary Teachers, Johnson tells many stories of children in grades 1-5 who are having trouble reading because no one has ever checked their near vision.
"One second-grader told me that the words were moving across the page as she was trying to read them – no wonder she was way behind!" Johnson writes.
Optometrists and teachers in Washington estimate that as many as twenty-five percent of students have some problem with how they see at reading distance. Studies during the past several years in many parts of the state bear this estimate out.
Only three other states – Kentucky, Illinois, and California – routinely screen students in elementary grades for near as well as distance vision.
At the University of Washington Bothell, Computer Science students are developing screening tools as well as games for use in vision therapy. University of Washington Bothell will be sponsoring the second annual Educating Young Eyes Symposium on Vision and Learning November 4 and 5, 2016. For more information go to http://www.educatingyoungeyes.com