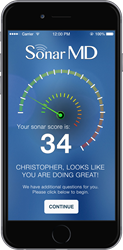 We are creating a roadmap for other organizations struggling with the transition from fee-for-service to the value-based care model.
Rolling Meadows, IL (PRWEB) April 07, 2016
SonarMD, a Chicago-based LLC founded by noted gastroenterologist Dr. Lawrence Kosinski, announced today it has entered into a partnership agreement with Digestive Health Specialists, based in Tacoma, Washington.
Through this agreement, Digestive Health Specialists practitioners will have full access to and use of the revolutionary SonarMD Platform, a secure, web-based application that allows clinicians to monitor and respond to their patients' health status between visits through the ongoing use of electronic health assessment surveys. DHS will be the first practice in Washington to deploy the platform.
Using nationally recognized evidence-based guidelines, the SonarMD application applies a Patient Reported Outcomes score to each survey submission, alerting the physician to potential downward trends in a patient's condition. With early intervention, those trends can be reversed, resulting in fewer hospitalizations and overall enhanced patient care outcomes.
While providing an immediate benefit to patient participants, the SonarMD platform also deploys sophisticated analytics capabilities, using the collective data generated by patient input over time to help care professionals generate new, better, evidence-based care pathways.
The SonarMD Platform was first deployed for patients at the Illinois Gastroenterology Group (IGG), the largest Gastroenterology practice in Illinois with 45 practitioners. As a managing partner of IGG, Dr. Kosinski has been a pioneer in the development of innovative solutions for population health management. He spearheaded the formation of the first Intensive Medical Home in partnership with Blue Cross/Blue Shield of Illinois for the management of Crohn's Disease, creating a cooperative triumvirate of patient, healthcare provider and payer who all benefit from the program's success in lowering overall healthcare costs while providing better care delivery and outcomes. The SonarMD Platform is an extension of that career-long commitment to advance better decision-making in the management of patients with chronic gastrointestinal disorders.
Digestive Health Specialists is part of a national SonarMD platform roll-out which includes some of the nation's most well-respected practices specializing in Inflammatory Bowel Disease.
"For the first time, practices from across the country dealing with the complexities of Crohn's care have access to a common analytical data source which grows more relevant with each new group of participants," says Dr. Kosinski. "This data not only helps practitioners establish a shared set of best practices for their high risk patients but, in the process, also provides substantial benefits to patient insurance providers through reduced medical costs."
Tracey Powell, SonarMD CEO, also notes, "As we continue to see and document the significant, positive effects that use of the SonarMD platform is having on patient healthcare outcomes, we are creating a roadmap for other organizations struggling with the transition from fee-for-service to the value-based care model. It is an exciting time for us, practitioners, and the patients they serve."
For more information visit SonarMD.com or call 847-370-8878.