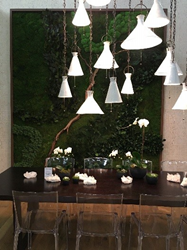 We've seen natural components as accent pieces before, but now these accents—like foliage, stones and bark—are being integrated into the design of the home organically
Sacramento, CA (PRWEB) April 05, 2016
Ventilation hoods encrusted with Swarovski crystals are just the tip of the iceberg according to trendspotters from Merlot Marketing. The Sacramento-based agency, which represents clients in the luxury home products market, returned from the 2016 Architectural Digest Design Show in New York City to report that designs with contrasting industrial and natural elements dominated the show floor. Another popular trend included products that enhance home convenience and allow for customization, especially in children's furnishings.
Merlot Marketing, founded in 2001 by CEO Debi Hammond, has supported clients at trade shows like the Architectural Digest Design Show for more than 15 years. This experience has given the agency's team a unique vantage point for identifying home design trends, particularly in the luxury market.
"We've seen natural components as accent pieces before, but now these accents—like foliage, stones and bark—are being integrated into the design of the home organically," said Hammond. "Many companies, like NanaWall, are also gaining popularity by creating products that blend indoor living with the outdoors, so homes transition seamlessly between living and entertaining spaces."
TWEET THIS: Natural accents & industrial elements dominate at @ADDesignShow, reports @MerlotMarketing: http://bit.ly/1SNwXdG #homedesign #ADDS2016
With a recent shift towards incorporating metals and metallics into home design, industrial elements from manufacturers like Hubbardton Forge, a blacksmith company that hand-forges lighting products and accessories, caught the eye of designers at the show. Dark, carefully-crafted metals and iron pieces were popular on the show floor, including the distinctive RangeCraft crystal-encrusted ventilation hood.
Luxury home product companies displayed designer pieces that pamper high-end homeowners, like the Spa and Makeup Station from True Residential, and modern conveniences for connected consumers, like the WiFi-connected Discovery iQ cooking range from Dacor.
Industrial elements, natural accents and home convenience products dominated for adults, while bright and customizable design pieces shined for children's spaces at the show. "The children's furniture products displayed at the show were innovative, charming and downright fun," said Hammond. "We're seeing a big trend in creating custom furniture and décor pieces that allow parents to maintain a sense of design in their home, yet provide one-of-a-kind creations for kids."
See more trends reported by Merlot Marketing at merlotmarketing.com/blog.
*Note: NanaWall Systems, True Residential and Dacor are clients of Merlot Marketing.
About Merlot Marketing
Founded in 2001, Merlot Marketing is an award-winning, national agency helping companies rediscover their brand position through its exclusive REDiscover™ process. Headquartered in Northern California, Merlot Marketing specializes in marketing strategy, public relations, social media, advertising and digital communications. Think RED. Think Passion. Discover Merlot at http://www.merlotmarketing.com or call 916-285-9835.
About Architectural Digest Design Show
The Architectural Digest Design Show displays design offerings from more than 400 brands, including well-known manufacturers and independent makers. Located at New York's Pier 92 and 94, the show features the latest state-of-the-art appliances and new collections from top furniture designers. With more than 117 new exhibitors in 2016—69 of them in the show's craft-centric Made section—the show is full of up-and-coming designers creating furnishings, ceramics, and textiles, many of them based in the U.S.