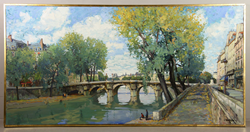 Beverly, Massachusetts (PRWEB) April 10, 2016
Kaminski Auctions will hold its next estate auction on Sunday, April 24th starting at 10:00 am. The April sale features a wide selection of fine art including two notable paintings from Russian born artist Constantin Kluge (Russia, 1912-2003).
Constantin Kluge was born in 1912 in the large industrial port city of Riga in Russia into a well to do family. He spent a good part of his life in China, first Beijing and later Shanghai. He studied architecture in Paris in 1950. His time in Paris influenced his art greatly and he was drawn to painting the beautiful bridges, rivers and cityscapes of Paris. He found representation in a French gallery on Rue Saint-Honoré and enjoyed a successful career as a painter. Kaminski Auctions is pleased to offer two large works by the artist. The first is titled "Pont Neuf," and is a large and colorful oil on canvas, of the famous bridge in Paris, signed on the lower right, the piece measures 38 inches high by 77 inches wide and is estimated at $8,000-$12,000. A similar but smaller work sold at Sotheby's in 2013 for $25,000 with buyer's premium. The second Kluge painting in the sale is titled "Cathedrale de Senlis en Automne." An oil on canvas, signed on the lower right with a Wally Findlay Gallery tag verso and measuring 31inches high by 39 inches wide, it is estimated at $6,000-$12,000. Both paintings are beautifully framed and are from a Florida estate.
A Luis Vsabal y Hernandez (Spanish, 1876-1937) painting titled "Hermosa Mujer / Beautiful Woman," oil on canvas from a California estate of an exotic woman in a colorful caftan is valued at $7,000-$9,000 and a floral still life by Eugene Henri Cauchois (French, 1850-1911), previously purchased from the Richard Green Gallery, London is valued at $7,000-$10,000. Other artists represented in the sale include British artist Alfred Augustus Glensening, German artist Johann Frankenberger and Dutch artist Constant Artz.
An 18th century English gilt wood mirror is the top valued lot in the auction with an estimate of $10,000-$15,000. This exquisite mirror has a center plumed shell headdress flanked by winged serpents over a floral and foliate basket. Dolphins, shells and a foliate scroll surround the top and sides of the mirror. It measures 69 inches high by 36 inches wide.
Several decorative art entries of interest include a Vassili Yacovlevitch (Russian, 1831-1905) bronze, depicting people in a sleigh pulled by three horses. It is signed in Cyrillic and presented on a green marble base with the Verfel Foundry mark. There is also an Al Hirschfeld (American, 1903-2003), pen and ink drawing of a Samurai valued at $2,000-$3,000 from a Florida estate.
Other items of interest include a Savonnerie carpet, a Chickering Grand piano, Louis Vuitton trunks and a large selection of furniture including Chinese huanghuali cabinets, an English highboy, a Federal sideboard and a Louis XVI console table.
All lots will be available to view online at http://www.kaminskiauctions.com on Friday, April 8th. Preview for the sale is at the Kaminski Auctions gallery, 117 Elliott Street, Rt. 62, Beverly, Massachusetts from 10:00am -5:00, Thursday- Saturday, April 21-23 and day of sale starting at 8:00 am. For more information and sign up to bid through KaminskiLIVE go to http://www.kaminskiauctions.com.