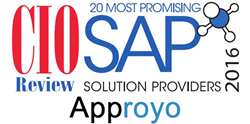 Managing SAP data has never been simpler for the companies that rely on Approyo
(PRWEB) April 05, 2016
Approyo is honored to announce that it has been selected among 20 most promising SAP solution providers list of 2016 by CIOReview.
The annual list showcases the 20 most promising SAP solution providers 2016. The positioning is based on evaluation of Approyo's specialties in helping clients to achieve efficient and better business solutions. The shortlisted companies were then taken up by a distinguished panel comprising of CEOs, CIOs, VCs analysts including CIOReview editorial board.
"Approyo is honored to be part of the CIOReview list of 20 most promising SAP solution providers 2016", said Christopher Carter, CEO of Approyo. "This achievement confirms Approyo's goal of becoming the world's most customer centric Enterprise SAP HANA organization."
"Approyo's growth has been a direct result of the team's commitment to continually expanding the value that it provides to its customers and partners, and we are glad to feature them this year in our top companies list", said Jeevan George, Managing Editor, CIOReview. "Managing SAP data has never been simpler for the hundreds of Global 2000 companies that rely on Approyo, and we're happy to showcase them."
View the CIO Review Article on Approyo - http://sap.cioreview.com/vendor/2016/approyo
About CIOReview
When it comes to identifying "The Best" in different areas of tech business, CIOReview seems to create a niche of its own. Through consultations and nominations with the industry leaders and thought experts, CIOReview constantly ventures and makes efforts to choose the most promising one in different domains of the tech business. SAP Solution Special Edition is an annual listing of 20 Most Promising SAP Solution Providers 2016 in the U.S. For more information, visit the website at: http://www.cioreview.com/
About Approyo
Approyo is a global SAP HANA start up focus partner for products and services that include upgrades, comprehensive remote operations/managed services, consulting, hosting and implementations and cloud services. Approyo differentiates itself by offering scalable managed SAP HANA solutions for organizations of all size. Headquartered in Palo Alto, CA with partner offices around the world, Approyo has the capability to support global organizations and their applications.
For additional information e-mail us at info(at)Approyo(dot)com, call 404.448.1166, or visit us on the web at http://www.Approyo.com.