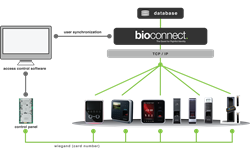 Toronto, ON (PRWEB) April 06, 2016
As of April 1, 2016, an update for the BioConnect identity management platform (v3.6) is available for download. As previous releases focused on integrating biometric technology with leading access control systems, v3.6 focuses on improved performance and reliability to enhance the overall user experience. The release puts an emphasis on the overall simplicity of the software, primarily focused on making the installation and maintenance of the platform as frictionless as possible for the integrator and end user. Software upgrade capabilities and system diagnostic checks have increased and the platform now offers a dedicated web-based service manager application.
The service manager includes the ability to manage system service statuses and to view the status of all current connections within both BioConnect's identity management platform database and the access control management system. Within the service manager there is also the ability to view real-time event logs and complete one-click backups of the BioConnect database. v3.6 also boasts a system startup checklist -- a checklist of all processes required for BioConnect to function upon startup of the system. The checklist detects and reports any issues preventing startup such as administration permission errors, inaccurate connection details and any licensing issues.
The release also adds improvements to the Suprema BioStation 2 device integration. BioConnect v3.6 adds server matching capabilities for BioStation 2 to grant enrolled users instant access and improved synchronization times with devices for offline access. Enhanced functionality also includes adjustment to authentication modes from BioConnect and firmware upgrades.
Authentication modes within the identity management platform have also expanded to now include PIN options, and now supports 3-Factor authentication (card + finger + PIN) for supporting devices.
BioConnect v3.6 will be on demonstration this week during ISC West, the demos will showcase integrations with Paxton Net2, AMAG Symmetry, Software House CCURE 9000, Genetec Security Center and Lenel OnGuard. Visit http://www.bioconnect.com for a full list of integrations and visit us in booth #22075 at ISC West April 6-8th in Las Vegas.