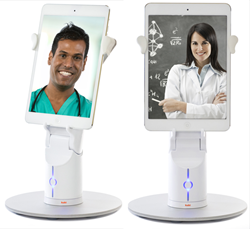 The ease of Kubi's set up and use makes Kubi ideal for tele-health in the 'Age at Home' and home care services market.
Portsmouth, New Hampshire (PRWEB) April 05, 2016
ChartaCloud Technologies LLC ("ChartaCloud") today announced that it will offer the telepresence robot, Kubi, from Revolve Robotics, Inc.. ChartaCloud will sell and support Kubi via its technology enabled health care business unit, called ChartaCares, for Home Care, Hospitals, Assisted Living and Age-at-Home Seniors. ChartaCloud will also add Kubi to its robotic solutions for the Education market.
"We were in search of a simpler, more immersive video telepresence capability and we found that in Kubi. In health care, the ability of authorized remote care givers and family members to observe more completely the health status, surroundings and living conditions of care recipients adds a significant new level of confidence and security. The ease of Kubi's set up and use makes Kubi ideal for tele-health in the 'Age-at-Home' and home care services markets. We will also utilize Kubi as the focal point for our "care station" which we call MyCareVision. Combining the use of Kubi with our existing health care applications such as MyHomeReach and SelfHelp," said Lauryn Schimmel, managing director, ChartaCloud.
"Kubi is a natural extension to our existing robotic assisted healthcare solutions. We already provide the humanoid NAO robot from Aldebaran Robotics using the "MEDi" robot application from RXRobots for hospital based pediatric care and the "ZORA" robot application from QBMT for use in assisted living communities," Schimmel added.
"We are pleased to begin our association with ChartaCloud and we are proud that Kubi continues to play an integral role in making healthcare to the home and immersive telepresence in education a growing reality," said Jeff Goldsmith, vice-president, Revolve Robotics.
The company also stated that it will add Kubi to its education robotics services alongside its existing humanoid robotics based STEM education solutions. Kubi enables students who are homebound for medical reasons for example, to actively participate in classes with their teachers and classmates. Kubi will also allow remotely based school system counselors a more immersive counseling session with students under their care and significantly expand the time available for care attention given to students by eliminating the need for travel to multiple school locations for counseling sessions.
About ChartaCloud
Specializing in process automation designed to deliver organizational efficiency, operational effectiveness, competiveness, responsiveness and profitability, ChartaCloud offers full-service solutions to help businesses overcome the challenges of paper, people, and workflow in the age of digitally driven mobility. These solutions enable large or small businesses to seamlessly connect existing paper documents with digital technologies to drive workflows and task management and maximize profits and sustainability. Learn more about ChartaCloud Technologies at http://www.chartacloud.com and follow us on Twitter @ChartaCloud.
About ChartaCares
With a focus on advancing ongoing HIPAA compliance and quality of care, ChartaCares provides ACOs, hospitals, VNAs and home care service providers, skilled nursing facilities, emergency clinics, and specialty medical practices, physical therapists, behavioral health centers, and dentists foundational secure health IT systems, robotic assistive medical care, and advanced health care predictive analytics to reduce hospital re-admissions and manage preventable admissions. Please visit http://www.chartacares.com for more information.
About Revolve Robotics
Founded in 2013 by robotic entrepreneurs Marcus Rosenthal and Ilya Polyakov, Revolve Robotics is one of the world's leading innovators in robotic telepresence. Revolve's flagship platform, the KUBI, has been shipping worldwide since January 2014. KUBI means "neck" in Japanese, and it is a robotic tablet stand that gives you the freedom to interact while video conferencing. KUBI delivers robotic telepresence for telehealth, distance learning, remote working, concierge and other applications. Revolve Robotics is dedicated to creating smart, simple solutions to real problems, timeless design, and an elevated level of practicality and functionality. Revolve Robotics is a privately held company based in San Francisco. For more information, please visit us at http://www.revolverobotics.com and follow us @RevolveRobotics.